Another Guinness World Record For Nissan

NISSAN NOTE CAR PULL
Having already helped set a new Guinness World Record back in August this year when Nissan helped the Electric Vehicle Union and the Norwegian EV Association drove 260½ electric vehicles in unison (with the majority of the cars, including the half, were Nissan LEAFs), they've only gone and helped someone else too!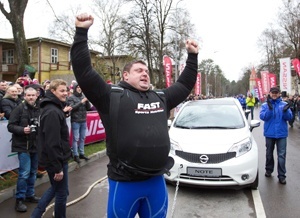 To be honest, if the world's strongest man comes calling and asks for help, you're not going to turn him down; so when the snappily-named Zydrunas Savickas asked Nissan to help him set a new Guinness world record for the 'Most Cars Pulled By One Man', they were happy to help by supplying 12 new Nissan Note cars weighing in at a total 12,941kg for him to drag along.
Savickas, already a 5-time winner of the World Strongest Man championship (and pretty much one of the greatest strongmen EVER!) had to wear a specialised pulling harness and use specialised rope in a particular arrangement before getting his ONE AND ONLY chance at setting the record – which he did by pulling the 12 Nissan of all time, only had one attempt to set the new record. Wearing a specialised pulling harness and rope arrangement he pulled the 12 Nissan Note cars over five metres in a staggering 32.9 seconds.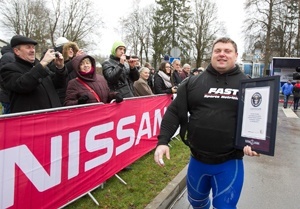 A large crowd attended the record attempt which took place in Druskininkai in Lithuania, (Savickas's home country) at the end of the Lithuanian Car of the Year test camp, and afterwards he was presented with an official certificate from Guinness World Records representative Jack Brockbank to mark this incredible achievement.
Whether or not Savickas would have been able to do it with the previous Nissan Note is questionable as the new car is 21kg lighter than the old one – a difference of 252 kg; and that's a lot on its own!
Once the record attempt had been successfully completed,  Savickas was able to say: "It is always great to set a new record. Once I got into my stride pulling the 12 Nissan Notes was fine. Obviously, a big thank you to Nissan for helping me set the record and making it all possible."
Not only was he pleased with the car, but so are many Nissan Note owners after the car was launched earlier this year, having been built at Nissan's Sunderland plant in the UK.
Nissan claim that it sets "new standards for sector-first technology, practicality, design and value for money" and the fact that its new Note Pure Drive 1.2-litre 98 PS supercharged petrol engine with manual transmission offers an improved CO2 emission figure of 99g/km, increased torque and greater fuel efficiency just backs all that up..
"We at Nissan like setting records and are always aiming high. Today we are delighted to have been able to help Zydrunas set another world record and to see so many people turn out to support him;  it was a great way to mark the end of the Lithuanian COTY camp," said Taina Erkkilä, Communication Director of Nissan Nordic Europe.