Happy Birthday To Sebastian Vettel

AND LOOK WHAT HE GOT FOR HIS BIRTHDAY!
Just a few days after gearbox problems stopped the German World Champion on the Silverstone track at the British Grand Prix, Sebastian Vettel was stopped in his tracks again by the present he received for his birthday from car manufacturer Infiniti, where he holds the position of Director of Performance.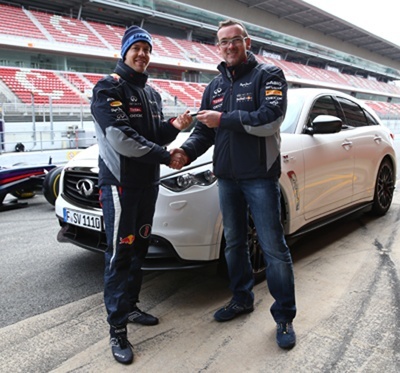 The World Champion (probably) to-be took delivery of his new company car in the shape of an Infiniti FX Vettel Edition, a limited edition performance SUV that he himself had helped develop further from its initial appearance at the 2012 Goodwood Festival of Speed where it was modelled and driven up the venue's famous hill by Vettel himself, showing off the fact that is the most powerful model in the Infiniti line-up. This initial involvement was the start of what has been an increasingly productive involvement in the development of Infiniti road cars for Vettel, and actually led to his appointment as their Director of Performance in April 2013.
This particular car is the first to be made out of a limited run of 150 and was delivered to Vettel's home in Switzerland – home to many a Formula One racing driver who wants to keep money that they earn. And boy do they earn that money, not just on the track but off it too!
When it comes to Sebastian Vettel and his involvement with Infiniti, including with the FX Vettel Edition, he has been involved in a number of development projects and comparative test drives around the world as well as participating in engineering briefings with Infiniti teams in many different countries too – and this has also helped in the development of the all-new Infiniti Q50 premium sports saloon where Vettel has had some important input into the steering and braking performance.
Those of you with a penchant for limited edition cars will be pleased to hear that the Infiniti FX Vettel Edition is now on sale across Western Europe, the Middle East and Russia, and if you needed a testimonial from anyone about it, surely there is no one better than the current and (in all likelihood) future World Champion.
"I'm proud to now own the Infiniti that I helped design. It has great performance, responsive handling and fits my daily life perfectly. The FX Vettel Edition is great fun to drive and I like that it is totally unique, I am sure many other Infiniti owners will feel the same way," said Vettel.
And there's me thinking that it was a company car that he had to give back.