Homecoming Victory For Sebastian Vettel in 2013 German Grand Prix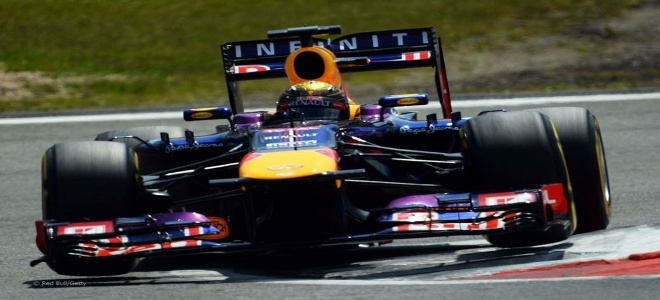 Vettel Victorious!
Driving for Red Bull, Sebastian Vettel emerged victorious at the 2013 German Grand Prix after starting from second position on the grid. He shared the podium with Kimi Raikkonen and Romain Grosjean, both of whom were driving for Lotus.
Ferrari's Fernando Alonso achieved the fastest lap time – 1:33.468 on lap 51 – but his powerhouse performance ultimately secured him a fourth place finish. And, despite starting from pole postion, Mercedes' Lewis Hamilton came in fifth, finishing just a second ahead of former team-mate Jenson Button.
Vettel's homecoming victory at the 2013 German Grand Prix served to increase his championship lead to 34 points from Ferrari's Fernando Alonso, whilst Raikkonen's second place finish moved him just seven points behind the Spaniard. Lewis Hamilton and Mark Webber retained their fourth and fifth spots.
The Race
Four drivers experienced tyre blowouts at the 2013 British Grand Prix, causing Pirelli to announce plans to alter the structure of their tyres in time for the German Grand Prix. Despite replacing the steel belts used in the rear wheels with Kevlar, and despite the introduction of new tyre-swapping regulations by FIA, the 2013 German Grand Prix was nonetheless marked by no small amount of drama.
Perhaps the most dramatic moment came when Mark Webber's rear-right wheel fell and rolled down the pit lane, hitting and knocking over a cameraman, who suffered from broken bones and concussion.
Other mishaps included a fiery engine failure for Jules Bianchi on lap 23, a hydraulics failure for Jean-Eric Vergne and an incident of locked-brakes for Felipe Massa, running him off the track and forcing him to retire from the race.
Still – at least there were no tyre punctures. Good work, Pirelli.
Vettel Pride
Vettel's victory in the 2013 German Grand Prix marked his first victory in his home race and his 30th career victory overall. Vettel is but the sixth driver to ever achieve such a feat, and that he did so in just his 110th start makes the occasion even more remarkable.
"It's unbelievable. I'm very, very happy," said Vettel. "It's incredible to win my home race."
His result in the 2013 German Grand Prix also marked the first time Vettel's enjoyed a victory in the month of his birthday – July.
No wonder he's so pleased.
Image via Flickr user: asdas