Infiniti Red Bull Racing Looking Good Again This Year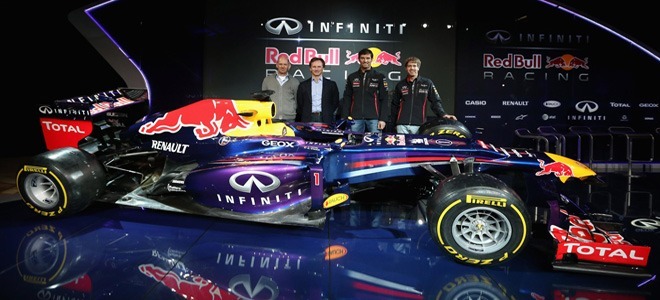 NEW LIVERY FOR TITLE HOLDERS
Despite an initial flurry of other manufacturers cars winning F1 races, the 2012 season soon settled down into what has been the 'same old, same old" with the Red Bulls of triple World Formula One Champion Sebastian Vettel and nine-time grand prix winner Mark Webber displaying the back of their cars to their rivals more often than not. Once again Infiniti Red Bull won the Contractor's Championship, but have they rested on their laurels and sat back, arms behind their collective heads and feet up thinking "Job Done?"
Of course not.
Last week they launched the Infiniti Red Bull Racing's 2013 car, the RB9, which will not only defend the Formula One Drivers' and Constructors' titles, but also "ushered in a new era for the team" with a new livery that reflects "the strengthened relationship between Red Bull Racing and premium automotive brand Infiniti."
At the unveiling of the car, where Infiniti revealed that it has not only agreed a four-year deal to become the team's title partner but also that it will become the exclusive Vehicle Performance Partner of the team, both Red Bull drivers were on hand to show off the new livery which uses the team's existing racing colours but integrates Infiniti's purple-hued branding.
And Infiniti Red Bull Racing Team Principal Christian Horner said: "Our stronger link with Infiniti from 2013 is part of the natural evolution of our team and demonstrates its growth. We are still a young racing outfit and this title partnership is a very welcome aspect of our development. I firmly believe it will prove to be of enormous benefit on both sides over the coming years."So what do Infiniti get out of it, apart from their brand name being flashed around the world almost every two weeks for a good part of the year?
Well, at Red Bull Racing's HQ in the soulless town of Milton Keynes, Infiniti already have workers in place there, adding their technical acumen to the expertise that Red Bull obviously already possess in spades; and Infiniti aim to integrate even more team members into the technical synergy that is the Vehicle Performance Department.
This rotation of staff can only help Infiniti in their developmental processes and performance expertise, with an earlier example of this technical collaboration already in the public domain with the Infiniti FX Vettel Edition having been processed from concept to production in just six months.
And it doesn't end there as Infiniti Red Bull Racing drivers Sebastian Vettel and Sebastien Buemi have a had very much a hands-on role test driving and developing the new Infiniti Q50.
The whole thing can only do Infiniti good.