International Museum Day - The Finest Motoring Museums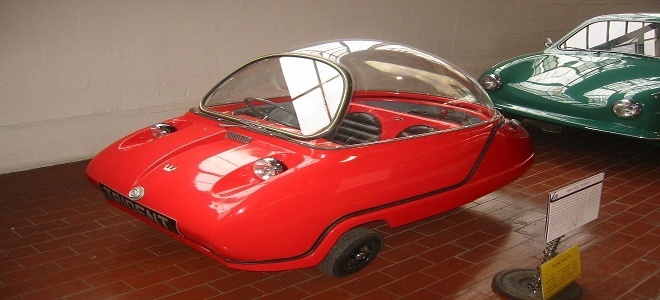 It's International Museum Day, everyone!
International Museum Day has been taking place on or around May 18 every year since 1977.
This year sees scores of events taking place in museums all over the world. The overarching theme is an interesting formula that reads: "Museums (Memory + Creativity) = Social Change".
As it says on the International Museum Day website: "The richness of our historical heritage, preserved and displayed by museums, together with the inventiveness and vitality that have characterised the museum sector's action in recent years, are where the strength of museum institutions lies today."
There's a museum for everything and everyone. In Stockport, there's a hat museum. Go to Cumbria and you'll find a pencil museum. And, because our lives are driven by cars, all over the world you'll find no small amount of motoring museums.
Let's take a look at a few of them.
Britain's First Motoring Museum
The first ever dedicated motor museum in Britain was set up by one Edmund Dangerfield in 1912. The editor of the Motor Magazine, Dangerfield assembled over 40 pre-1903 vehicles and a range of accessories and staged a temporary exhibition on London's Oxford Street. The exhibition would open again in 1914 at Sydenham's Crystal Palace, where it would remain until the building was commandeered by the British Government during the First World War.
At this point, the exhibits were either returned to their owners, acquired by Government Museums or unceremoniously dumped at a waste ground near Charing Cross Station in a move that's been described as "one of the untold tragedies of the war". It breaks your heart.
Britain's Biggest Motoring Museum
When The National Motor Museum opened at Beaulieu in 1972, their initial collection included five cars saved from Dangerfield's original 1912 collection. Now The National Motor Museum hosts a truly magnificent collection of vehicles, objects, photographs, films, videos, archives and references that tell possibly the most complete story of British motoring history possible.
Amongst the many, many, many vehicles included in their collection are the 1961 Bluebird, a 1909 Rolls-Royce Silver Ghost, Graham Hill's 1967 Lotus 49 R3 and Del Boy's Reliant Regal. The museum also plays host to such fascinating temporary exhibitions as this year's Bond In Motion – the largest collection of James Bond vehicles ever assembled in one place – and The World of Top Gear, where you can see such vehicles as were included in the adventures of Jeremy Clarkson and friends.
The Bubblecar Museum
Lincolnshire's Bubblecar Museum describes itself as the UK's "most unusual Motor Museum". They boast a collection of over 50 microcars, "many in thought provoking dioramas", from such makers as Bond, Isetta, Reliant, Frisky and Bamby.
Bubblecars (pictured above) were small, intensely fuel-efficient vehicles powered by sub-700cc engines. Introduced as an alternative to full size cars, to see so many of these curious vehicles gathered in one place must create a feeling not unlike having accidentally stumbled upon an optimistic vision of the future in which economy and efficiency rules over power and performance.
The Bubblecar Museum also hosts camping and rally facilities and even contains a giftshop and a cafe, which they proudly describe as being "great for afternoon tea!"
The Cars of the Stars Motor Museum
Keswick's Cars of the Stars Motor Museum sadly closed its doors for good in 2011, but in its heyday it played host to a remarkable collection of vehicles from the world of film and television.
The collection included Ron Weasley's Ford Anglia 105E, two A-Team GMC vans, KITT from Knightrider, numerous Batmobiles, the Back to the Future De Lorean, Mr. Bean's MKIV Austin Mini, Chitty Chitty Bang Bang and even Mad Max's Pursuit Special Ford Falcon XB GT Coupe.
Jesus. With such an incredible collection, how could they possibly have gone bust?
Mass-Transit Museums
Fans of public transport are supremely well-served by museums. Bus-watchers must make regular pilgrimages to the Oxford Bus Museum, where they can get all bleary-eyed as they take in a collection of some 40 vehicles and a fully-operational conservation workshop.
For a full nostalgic immersion, there's also the Crich Tramway Museum in Derbyshire. There you can actually ride a collection of vintage trams around a wonderful replica vintage town which includes a pub, a sweet shop and a Tardis.
Dedicated Museums of the World
Most every major marque has its own motoring museum. It's getting quite late now, but for a special International Museum Day challenge, why not endeavour to visit every single one of them in a day?
Your journey will incorporate Japan's Toyota Automobile Museum, Australia's Ford Discovery Centre, America's National Corvette Museum, Austria's Porsche and Rolls-Royce Museums, the Skoda Auto Museum in the Czech Republic, the BMW & Mercedes-Benz museums of Germany, Italy's Galleria Ferrari and France's Musee de l'Aventure Peugeot.
Think you can make each of those in the space of 24 hours? No? How about next year on International Museum Day? Still no?
I just wish you'd apply yourself a bit more.
So happy International Museum Day, everyone. Hope you had a good one.
Image via mrflip/Wikimedia Commons.