Lamborghini Still Fit at 50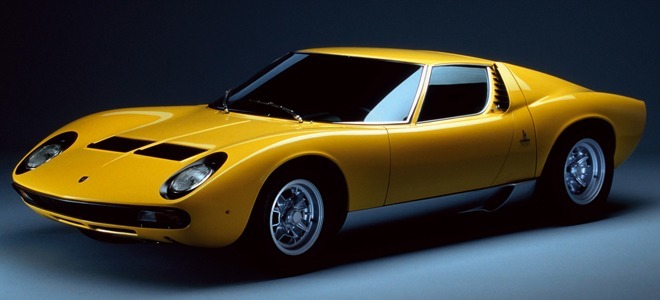 At July's Silverstone Classic that starts on 26th July, what could well be the biggest ever gathering of the legendary Italian supercar marque Lamborghini in the UK is planned as part of their 50th birthday celebrations.
And it could even be one of the biggest in the world!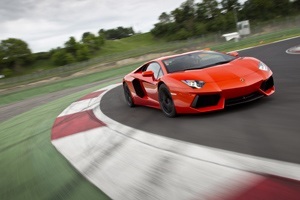 At 6pm on the Saturday, organised by The Lamborghini Club UK, a special parade of 100 cars will take place supported by Automobili Lamborghini S.p.A. with the very latest (and amazing) addition to the Lamborghini family, the Aventador LP700-4, right there at the front, leading just about every model produced by the famous sportscar manufacturer since originally founded by Ferruccio Lamborghini back in 1963 as a direct rival to Ferrari. And not only that, legendary chief test driver Valentino Balboni will be there all weekend at Silverstone along with some other high profile visitors.
"As far as we know it will be the biggest gathering of Lamborghinis ever seen in the UK and probably anywhere in the world, aside from the 50th Anniversary Grand Tour that the factory staged in Italy earlier in the year," explained Lynne Bull, membership secretary of the Lamborghini Club UK. "It is certainly the first time the club has attempted to orchestrate something so monumentally exciting. There will be Miuras, Espadas, LM002s, Countachs, Murcielagos, Diablos, Uraccos… basically the whole history will be represented aside from a couple of the very early originals."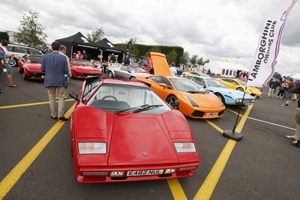 It is pretty amazing the trip that Lamborghini have been on: from the time that Ferruccio Lamborghini made his fortune building much-needed tractors on surplus WW2 military hardware to his adoption of a raging bull as an emblem (because of his passion of bullfighting as well as fast cars) as part of his supercar dream.
That's not to say that the company has had a smooth transition to the iconic status that it earns today; it nearly went out of business in 1972 before settling down in bed with Audi AG in 1998, since when it could be said that it has enjoyed its most stable and successful era.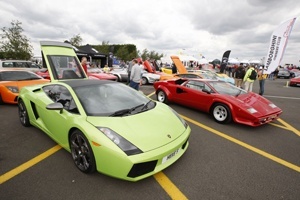 But Silverstone is not all about Lamborghini. Others are celebrating too!
Remember that it's also the birthday of one of Lamborghini's playground friends – the Aston Martin – who are also commemorating its birthday (This time a centenary) with a special pageant of 100 cars while Sunday sees a massive 911-car procession as part of the festivities to honour 50 years of the Porsche 911.
The Silverstone Classic is looking out to be just that – a classic! Details on tickets and events can be found at the Silverstone Classic website.