Le Mans 24 Hours - All Set For A Weekend of Gruelling Glamour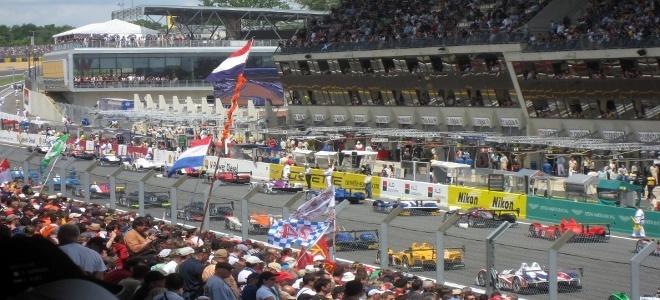 With the practice laps and qualifying races complete, all's set for the 2013 Le Mans 24 Hours.
Le Mans 24 Hours kicks off in earnest at 15:00 on Saturday 22 June. The free practice was held on Wednesday 19 June, immediately followed by the first qualifying round. Two further qualifying sessions took place on Thursday 20 June, leaving just today – the Friday before the storm.
No cars go today, so the tension's running high and the air must be buzzing with anticipation. However, this is no day for idle stewing in competitive juices. Instead, today offers and opportunity for visitors and drivers alike to get up and close with the competitors of this year's event whilst enjoying the illustrious history of the Le Mans 24 Hours.
Le Mans 24 Hours – 90 Years of Gruelling Glamour
2013 acts as the 90th anniversary of the Le Mans 24 Hours, the world's most challenging motorsport event and the third round in the World Endurance Championship (WEC).
Having been held annually since 1923 near the town of Le Mans, France, the Le Mans 24 Hours stands as the oldest and longest-running sports car race in endurance racing. Balancing competitive speed with a car's ability to run for a full 24 hours without sustaining debilitating mechanical damage provides one of the toughest challenges in the world of motorsport.
Three drivers share each competing vehicle and generally drive in shifts of two hours. But even though they take such regular breaks, it remains that the drivers and accompanying teams must offer peak performance and total dedication and attention-to-detail for a full 24 hour period. Le Mans 24 Hours is not for the faint hearted, the narcoleptic or the easily-distracted.
But of course, accidents can and frequently do happen. 2011 saw a crushing barrel roll from defending champions Audi in the first hour, whilst Toyota driver Anthony Davidson suffered two broken vertebrae as his car flipped just before sunset in 2012.
Though Le Mans 24 Hours has not seen a fatality since 1997, the list of fatalities makes for a sobering read. These are men who died doing what they love, giving it their all. It's no wonder that emotions run high at Le Mans 24 Hours.
Today's Events
Though no cars are running, the Le Mans site remains a hive of activity today. A Classic British Welcome is taking place on in the village of Saint-Saturnin on R.N. 138 near the Le Mans Nord toll gate, incorporating an exhibition of over 1,000 prestigious English historical cars presided over by 1993 Le Mans 24 Hours winner Christophe Bouchut.
The Le Mans 24 Hours pit lane will be open from dawn to dusk today, giving certain ticket holders an opportunity to get up close and personal with the 56 cars competing in this year's event.
Today also sees various celebrations marking 90 years of Le Mans 24 Hours. The celebrations include a display of some of the most beautiful cars from the Lotus France club collection, whilst in the ITF company zone visitors can have their picture taken at the wheel of their car before a backdrop of the famous Le Mans Mulsanne corner.
There'll also be a concours d'élégance in front of the town hall esplanade featuring numerous competing cars from the history of Le Mans 24 Hours. Eleven legendary cars will line the track on the slope leading up to the Dunlop Footbridge, on which will be stood hostesses dressed in the period costume of each era of the Le Mans 24 Hours history.
Finally, there'll be a carnival atmosphere in the Le Mans city centre, as each of the 56 teams rides in open top cars with the accompaniment of dancers, vintage and exotic cars.
A full entry-list for the 2013 Le Mans 24 Hours can be found here. The race kicks off at 15:00 on Saturday June 22. Much of the action can be watched online.
Should you wish to commit to watching the race in its entirety, as you struggle bleary eyed through your nineteenth cup of coffee, just think how the drivers must be feeling.
Image via Flickr user: Wonker