Legendary Jaguar D-Type Shines At Le Mans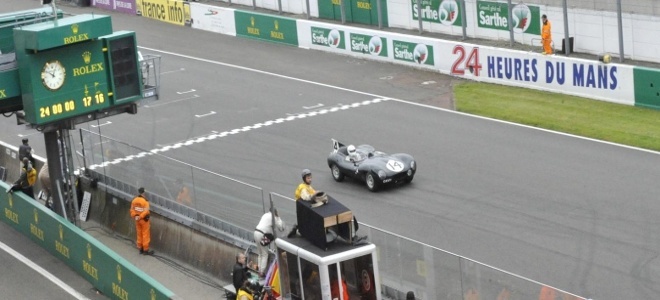 Jaguar D-Type Makes Historic Le Mans Appearance
The first works Jaguar D-Type, codenamed OKV 1, finished second at the 1954 Le Mans 24 Hours event.
The 2013 Le Mans 24 Hours marked the 90th anniversary of this iconic endurance race, and to mark the event the very same D-Type drove two parade laps around the circuit prior to the start of the race.
11 Legendary Cars
The OKV 1 Jaguar D-Type was but one of 11 legendary cars to take to the Le Mans circuit over the weekend.
Joining the D-Type were such stalwarts as the 1930 Speed Six Bentley that finished second, in that same year, to an Alfa Romeo 8C from the Alfa Museum. Viewers were also given a rare chance to see the winning GT40 and a present day Audi.
The famous Jaguar D-Type was driven by Peter Neumark, chairman of Classic Motor Cars. He remarked: "It was a great privilege to be asked to take part. The second lap was truly amazing, at every marshals post, each group of at least twenty orange clad marshals stood in line waving and cheering as we drove past."
"This culminated in driving back down the start/finish straight where every team stood in line, including drivers, pit crews and management applauding and saluting us as we drove slowly past. It was remarkable and something that will linger in the memory bank for a long time."
Classic Motor Cars
Bridgnorth based Classic Motor Cars were founded in 1993 and provide a high-standard Jaguar restoration service. The Jaguar D-Type that shone at the 2013 Le Mans was restored back in 2010 with the intention of becoming anything but a museum piece.
Never one to gather dust, the OKV 1 won its grid in the 2010 Classic Le Mans.
Footage of the Works D-Type performing its celebratory lap at the 2013 Le Mans can be viewed below.