Lexus Completes Last LF-A Supercar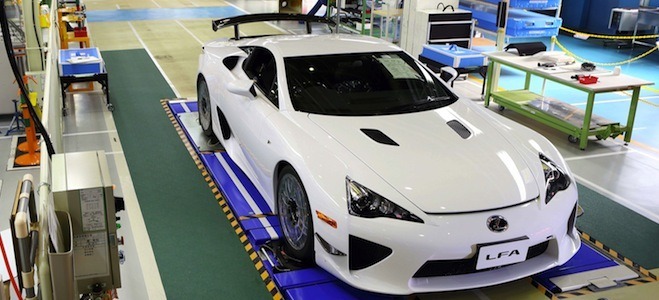 It's always sad seeing the very last car roll off the production line. The knowledge that there will no longer be any more of these cars makes that last model particularly special, especially when it's a fan favourite like the Lexus LF-A. Ending is reign on top of the Japanese supercar throne, this month we have to bid farewell to car that will be sorely missed.
According to Lexus spokespeople, the final LF-A supercar rolled off the production line in Motomachi, Japan on 14 December. The white "Nurburger Package" model marks the end of the only supercar produced by the company, selling to a lucky buyer somewhere in the UK.
The car that has wowed enthusiasts all around the world initially started off as a concept in 2000 called the P280.  Showcasing various capabilities produced by the Toyota Motor Corporation and Lexus, prototypes were seen on the Nurburgring in 2004 and by 2005 it was being showcased in international auto shows. After several more concepts, including the LF-A Roadster, the company publically confirmed production of limited order in 2009.
Scheduled to produce some 500 vehicles, the FL-A was powered by a 4.8-litre V10 producing some 553bhp in standard or 562bhp with whopping £55,000 Nurburgring Package. Both cars could race from 0-62bhp in 3.7 and produced a top speed of 202mph. Each car was custom ordered to the customers specifications, costing around £300,000.
Speaking to Autoexpress about the vehicle, LF-A chief engineer, Haruhiko Tanahashi, said ""I've lived and breathed supercars for the past decade. Specifically, one supercar, the LF-A. Very few people have the opportunity we had to create a world-class supercar from a blank sheet of paper."
While the car had a great deal to offer, the vehicle price was its ultimate downfall. According to the company, the LF-A didn't turn a profit at all. Cutting their losses short, they stopped production ahead of schedule. However, the company suggested that they will utilize engineering expertise and production of carbon-fibre developed from the project in future endeavours.