Limited McLaren 50 12C AND 12C Spider Models Announced
THE 50TH CELEBRATIONS CONTINUE
50 years of McLaren celebrations continue as they announce that 50 examples of each of the 12C McLaren 50 and 12C Spider are being built as commemorative models featuring unique styling and specification enhancements. That's 100 total in the world – seriously exclusive automobiles!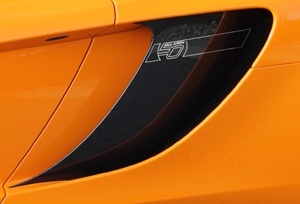 The McLaren 50 12C and McLaren 50 12C Spider feature a number of bespoke styling and specification enhancements to mark the milestone event, which will be celebrated on 2 September. The cars have been produced by McLaren Special Operations (MSO) in conjunction with the McLaren Automotive design team led by Design Director, Frank Stephenson in order to reach the ultimate celebratory day on September 2nd when 50 years hits hard.
But they are not just any bold limited edition cars: they've had revisions beyond revisions to make them the best that there has ever been.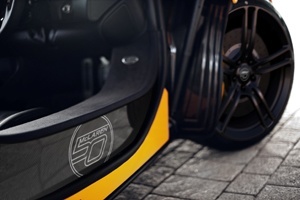 Check out the remodelled, CFD (Computational Fluid Dynamics)-optimised front bumper that's been made to increase downforce levels as well as give a greater visual impact to the onlooker; 'ave a butchers at the lower section of the colour-coded bumper that is; and then cast your eyes over the bonnet to just above the bumper to see the black McLaren F1-inspired heritage badge.
To help with driving – or to be precise, stopping – both the McLaren 50 12C and 12C Spider models are fitted with the carbon ceramic brake upgrade, with 394x36mm discs at the front, and 380x34mm at the rear.
And to help with comfort, the McLaren 50 12C models are upholstered inside with a full leather upgrade complimented by an anniversary dedication plate on the driver's door which highlights the limited run.
Available in one of three striking colour finishes – Carbon Black, Supernova Silver or heritage McLaren Orange – all of the McLaren cars (all 50 of them) also come with a monogrammed black and silver car cover, limited edition key, carbon fibre presentation key box and a specially commissioned print signed by McLaren Automotive Design Director, Frank Stephenson.
Mind you; they don't come cheap; the recommended retail price in the UK for the McLaren 50 12C is £196,000, and £215,500 for the McLaren 50 12C Spider.