How Long Will Your Car Last?
CAR SHELF-LIFE SHORTENED
These days, motorists are faced with an overwhelming choice of new cars – and while choice is a good thing, it also means that more and more cars with technological advances and a bewildering array of benefits to both consumers and the environment join the fight for consumer hearts and wallets before you make the next choice. And that means that a car's 'shelf-life' is shorter than ever before, according to car information experts CAP Automotive.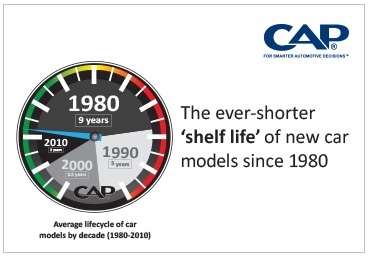 Depreciation on current cars is almost unprecedented as models go out of style in the same vein as the music industry – and certainly a lot quicker than 30 years ago. According to analysis from CAP, the period of time between models being replaced by car manufacturers (or 'lifestyle' as it is known in the trade) or 'facelifted' to a new and improved version has shrunk from what was 10 years in the 1970s and 1980s to around 3-4 years now.
CAP new car expert David Saville said: "As Ford roll out their latest generation Fiesta – and Volkswagen bring out their latest Golf –you can't help feeling like it's only 2 minutes since the previous generation was introduced in each case. The outgoing Fiesta was produced between October 2008 and October 2012 and the previous Golf ran from November 2009 until November 2012.
"Looking back into history the first generation Fiesta was introduced in 1976 and ran until 1983. The Golf was introduced in 1974 and remained substantially unchanged until 1983. Therefore, over 3 decades these popular models have gone from a lifecycle approaching 10 years, with minimal technical changes, to around 4 years with quite often substantial technical changes under the skin each time."
There are a number of suggested reasons for this upsurge in updating, according to Mr Saville; and one of these is down to the influence of far eastern manufacturer such as Hyundai and Kia who adopted a policy of refreshing their offerings more rapidly than the competition when they launched and entered the car manufacturing world – primarily in an attempt to crack European markets as quickly as possible.
"To gain traction in more sophisticated and competitive markets than their own, far eastern manufacturers changed their models more rapidly than European carmakers. Historically they would often try their own domestic market models in the European market and find they needed to refine and replace them quickly, to address issues around their suitability for European customers. It's a policy that worked well for them and, over time, their success prompted others to follow suit because no manufacturer wants to be left behind when new technology arrives or motorists' design tastes change."
So there's part of the blame for you looking out of date with your car, if anyone asks; but you can also blame tougher emissions standard being implemented by governments and the industry itself. Car manufacturers are constantly looking to improve fuel efficiency and harmful emissions, not only so they can meet rapidly changing European rules but also curry favour with motorists themselves who are not only aiming to be seen as eco-friendly but also looking to pay less in CO2-related taxes.
David Saville again: "A model that had an acceptable level of Co2 emissions 3 years back is now totally out of step with the latest requirements. Often, the changes to car design which are aimed at reducing emissions involve altering the shell of the car, to reduce weight or improve aerodynamics, as well as introducing more efficient engines. Again, the new look of the vehicle – as well as its improved technology – quickly makes its predecessor look out of date.
"Now that computers are at the forefront of vehicle design and large areas of the front and rear of the car are manufactured from easily moulded plastics, it is simply easier to make significant cosmetic changes than it used to be. With every manufacturer wanting to get ahead of its rivals, there is now never a time when the next version of a model isn't on the drawing board."
So there is no use pretending that the car you drive is actually a new up-to-date version of the model because the manufacturers will make a few subtle changes to stop you doing that and forcing your egotistical hand into buying a new car instead. And boy will you pay for it!
Not necessarily directly – although that will, of course, be a factor – but when you decide to get rid of it. We all know the story that your new car depreciates as soon as you drive off of the forecourt in it, but David Saville explains that there is much more behind it.
"On the face of it the new car consumer really benefits by always having a choice of bang up-to-date models to choose from. But this can also have a negative effect because most buyers have a car that they need to dispose of when they come back into the market. If their existing model isn't the latest offering from that manufacturer, what the industry calls 'lifecycle depreciation' kicks in and makes their car less attractive as a private sale or a trade-in. CAP analysis consistently shows that greater depreciation is a particular issue for manufacturers who have adopted model lifecycles below the standard 3 to 4 year ownership pattern.
"In fact CAP have seen that certain manufacturers, who have a history of dramatically changing their models over a relatively short period, have begun to take a step back and tone down visual changes so as not to damage the previous generation model's second hand values quickly."
Maybe that's a good reason to lease a car rather than buy it?