Mercedes Previews Powerful A45 AMG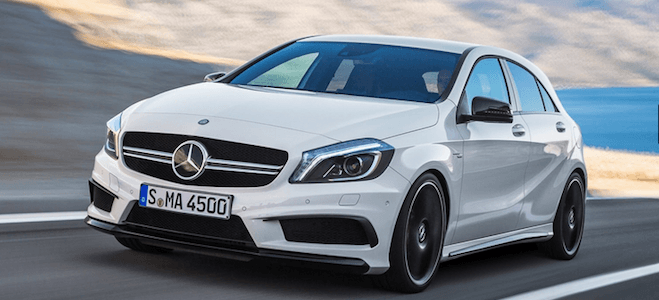 Mercedes has long been known for producing powerful vehicles. Its AMG division has become the envy of most car manufacturers, releasing monstrous creations year after year. Now it looks like its time for feeding season as Mercedes gets ready to launch its A45 AMG at the Geneva Motor Show. Promising an experience unlike any other, lets take a look inside and see what they've created.
In brief, Mercedes has taken its popular A-Class model and fed it an unholy cocktail of power, installing an all-new turbocharged 2.0-litre petrol engine that produces 355bhp and races from 0-62mph in just 4.6 seconds. Quite a potent boost to base hatchback that offers only 122bhp, this jolt gives the Mercedes A45 AMG the most powerful four-cylinder production engine in the world, a title that sets this car far above the rest.
This monstrous development is also seen on the outside of the car with deeper valances, more prominent alloys, and impressive twin chrome tail pipes. Reporters at the Telegraph have also noted that AMG has installed 'twin blade' front grille, as well as black air intake surrounds. Similarly, side skirts as well as wheel arches have gotten a masculine makeover, becoming prominent and edgy like the rest of the car.
Cosmetic differences are also felt inside the A45 as AMG experts have designed the vehicle along smoother, stylish looking lines. The black leather sports seats are crisscrossed with red stitching, offering the driver extreme comfort while still looking fierce. Reporters at AutoTrader have noted that this theme is felt throughout the cabin with red seat belts, air vent, as well as dashboard with a carbon-fibre looking trim.
While there is still some speculation as to the price, experts predict that it will cost at least £32,000.
Stay tuned to Nationwide Vehicle Contracts for more information when the car is official launch on March 5th at the Geneva Motor Show.