Mercedes Unveils Exceedingly Efficient A-Class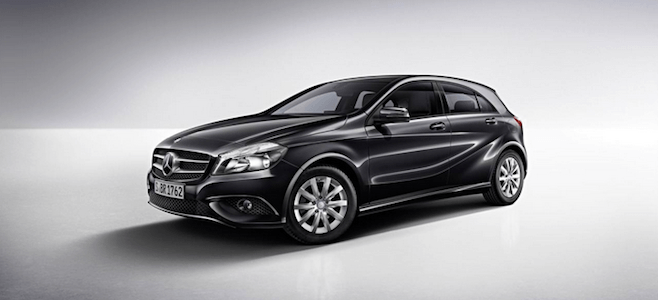 Mercedes has long been known as a leader among luxury car manufacturers. Rooted in a sense of innovation, the company's designs have made it a hit with consumers, offering constant appeal to an ever-changing market. Now readying themselves for the next big technological revolution, Mercedes has recently unveiled an extremely efficient A-Class. While details are still coming in, what we know may very well change the industry.
The German manufacturer has revealed that it will be releasing both petrol and diesel A 180 CDI BlueEFFICIENCY models in the year ahead. Touting them as the most fuel-efficient model that they've ever built, the diesel will consume just 78mpg and emit 92g/km of CO2 while the petrol version will uses 54mpg and emits 120g/km of CO2.
These figures show an improvement over the past A180 CDI model largely due to engine redesigns. The petrol vehicle will come with a 1.6-liter engine producing 122bhp while the diesel comes with a 1.5-liter one producing some 109bhp. Reporters at Nitrobahn noted that each is helped with a six-speed manual transmission which gives it 54mph and 120gms/km. The result of this means that the new A-Class BlueEEFFICENCY will be five percent more efficient than other BlueEFFICENCY models.
Reporters at iolMotoring suggest that the cars new exterior can also explain its remarkable efficacy. The aerodynamics in the upper portion has been partially blanked off and the suspension of the vehicle has been lowed by 15mm. Mercedes have also added new special 'fairings' on the lower spring links, the purpose of which is to improve the flow of air on its the underbody.  Additionally, the car also comes armed with a set of special round LED daytime laps on the front bumper that adds to the overall smoothness of its design.
While there are sadly no immediate plans for the UK market, spokespeople at Mercedes have revealed that the car will go on sale in Europe on 1 February.