Is the New Mercedes-Benz S Class the "Most Advanced Car in the World?"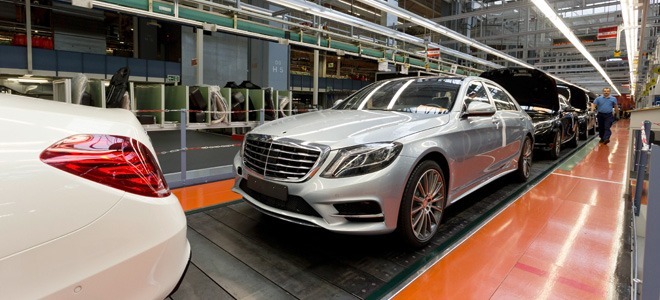 According to its makers – it is! It's certainly the most advanced and luxurious Mercedes-Benz so far to grace the eyes of the viewing public.
And it has so much to live up to with the S-Class's reputation for technological standards, safety innovation, comfort and general all-round features (that include ABS, anti-lock brakes, SRS airbag, ESP®, catalytic converters and Night View Assist.) But rest assured, Mercedes have promised that the new S-Class will not only continue that legacy, but will actually raise the car even higher when it comes to efficiency, comfort, refinement and personalisation.
Right at the start there are three options when it comes to engines - diesel, petrol and petrol hybrid – in the shape of the S 350 BlueTEC, S 400 Hybrid and S 500, along with two trim choices of SE Line and AMG Line. And these engines are up to 9% more powerful than the outgoing W221 model, 18% less when it comes to CO2 emissions and 22% better in the field of fuel consumption, with the S 400 Hybrid giving the driver 44.8 mpg.
Standard equipment has been improved, surpassing even the high level that the outgoing S-Class has, with the addition of a reversing camera, COMAND Online NTG 5 (the latest generation of telematics), full LED Intelligent Light System, DAB digital radio and Keyless Start – not to mention the availability of new equipment.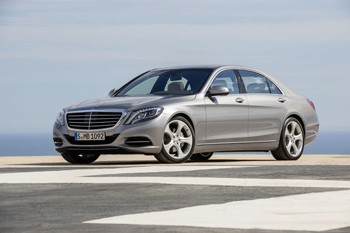 Things like Magic Vision Control which is an innovative wash/wipe system that applies washer fluid directly in front of the wiper blades, not only minimising waste but also cutting down on any obstructions to the driver, and an enhanced AirMATIC full air suspension system.
Some of the newer equipment is model-specific standard (and optional on others), and by this we are talking the likes of the Magic Body Control suspension system that is connected to the new Road Surface Scan system, and uses a stereo camera to scan the road ahead for prospective suspension-like problems; and react accordingly by altering damping characteristics of each wheel to accommodate it.
Inside it is luxury all the way; from the class-leading entertainment systems with a pair of high-resolution TFT screens measuring 307 mm diagonally that can give information at the touch of a button. To be honest, you wouldn't expect anything less from a Mercedes, whether it is standard or as an optional extra, and that includes not only a choice of three different seat packages in the rear (choices that include how many, how comfortable, how much they massage you and how warm they are as you recline) but also the air control in the air when it comes to filtration and ionisation for quality..
Production of the new S-Class in the UK starts in September for delivery in October.