A MINI Celebration in Centennial Oxford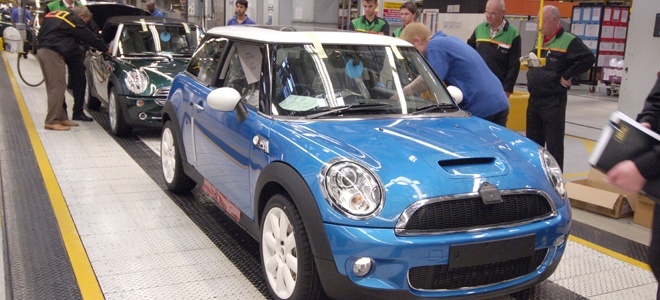 CENTURY OF CAR-MAKING IN OXFORD
It's not only Chevrolet that are celebrating their centenary this year amongst the car fraternity.
On the 28th March 1913, the first ever "Bullnose" Morris Oxford built by William Morris rolled off of the production line in Oxford, just a few hundred yards from the modern MINI plant stands today; and MINI will be celebrating this fact 100 years to the day on Thursday 28th March to celebrate a centenary of car-making in Oxford.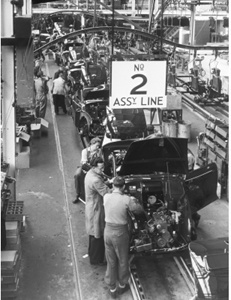 Way back then, before many of us were born, and probably even before our parents and even grandparents were born, 20 cars a week rolled off the production line. Since then, the business has grown and grown and over the years a total of around 11.65 million cars have been produced with Plant Oxford contributing over 2.25 million MINIs to the total tally, now employing 3,700 people making up to 900 MINIs every day.
And now, Plant Oxford is gearing itself up, thanks to major investment creating new facilities, for the next generation MINI.
Over the years, the plant has produced an array of famous cars, many of which have become iconic in a variety of different ways, and besides that very first Bullnose Morris, it has been responsible for the Morris Minor, the Mini, India's Hindustan Ambassador (that is a car, not a person, honestly!) and today's MINI. It even found time in the '80s to produce Hondas for a short period of time, but it can also lay claim to some car 'bloopers' like the much-derided Morris Marina (although sales figures would dispute this), the startling Princess and one of the earliest 'talking' cars in the shape of the Austin Maestro.
In amongst all this car production, the plant has found itself responsible for other operations like building bodyshells for Rolls-Royce, Bentley, Jaguar, MG, Standard-Triumph, Ford and Hillman, as well as tooling dies for Alfa Romeo – and it even has been a part of the British war effort by being utilised to build Tiger Moth aircraft, ambulances, military trucks, jerry cans, components for Horsa gliders, parachutes and iron lungs.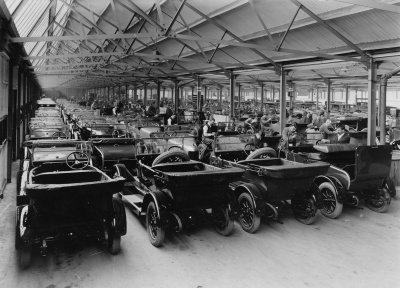 Now owned by the BMW Group, over the past 100 years, there have been eight custodians of Plant Oxford beginning with founder William Morris merged with arch-rival Austin in 1952 to form the British Motor Corporation. Morris, by then Lord Nuffield, died in 1963, leaving behind 28,000 employees producing an extraordinary variety of models.
BMC became British Motor Holdings after merging with Jaguar in 1967, and then British Leyland Motor Corporation the year after by linking with the Leyland truck company. The firm was nationalised in 1974 (becoming the Rover Group in 1986) before Mrs Thatcher's Government sold it off British Aerospace in 1988 – and don't get me started on that!
And then BMW, which at that time included Land Rover, bought it in 1994. With the poor exchange rate and falling sales that BMW encountered in the late 90s, it sold off both Rover and Land Rover in 2000, but kept hold of the Mini brand, Plant Oxford, the associated Swindon pressings factory and the new Hams Hall engine plant that was preparing for production.
And their faith in MINI has been rewarded as today Plant Oxford is flourishing with the manufacture of the MINI Hatchback, Convertible, Clubman, Clubvan, Roadster and Coupé and, as stated before, is currently undergoing a major investment to get the plant ready for the next generation of MINIs. Apparently this includes the installation of 1,000 new robots for both a new body shop and the existing facility, which although a touch disappointing that production is not that human anymore, it does remind me of a famous "Not the Nine'o'clock News" sketch called "Built By Roberts" (If you've not seen it, check it out on You Tube) even though it not exclusively about this plant; it's very funny. (It is actually an advert for the Fiat Strada.)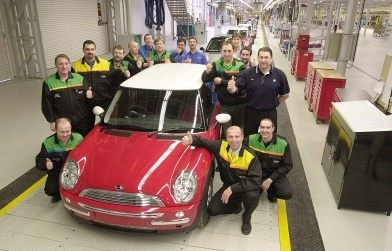 The Oxford plant has been a real bonus for the UK, generating many billions of pounds as well as for many other countries around the world during its 100 years, not only providing direct employment for hundreds of thousands of employees, but also many more thousands through indirect jobs. Originally selling to UK only, it started exporting Morris products in the 1930s with exports accounting for nearly 30% of the UK's total exports by the middle of the decade. In 1950, the 100,000th overseas model – a Morris Minor – went abroad, and Plant Oxford's export record is equally impressive today with, no less than 1.7 million MINIs having been exported to over 100 countries since 2001.
A central part of BMW's investment in car manufacturing in this country, Plant Oxford could well be considered to be the central fulcrum of the BMW Group's UK production network, that also still includes the Hams Hall engine factory in Birmingham and the Swindon pressings plant that it has owned since 1994.
According to BMW: "The network faces a bright future as the next generation MINI family enters production over the coming years amid a trend of rising sales and exports."
Then that is a bright future for all of us.