Mitsubishi To Unveil Three World Premiers At Tokyo Motor Show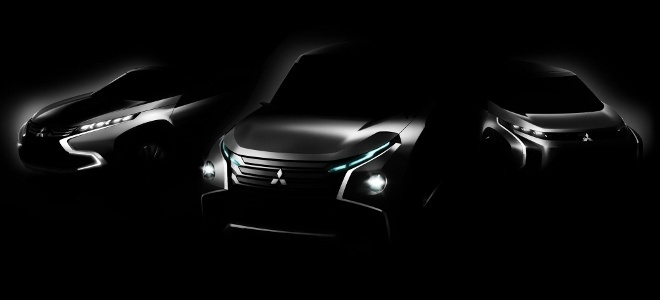 What A Concept
Never ones to rest on their laurels or make a petulant cry of "will this do?", Mitsubishi have announced their intentions to unveil no less than three world premiers at the imminent Tokyo Motor Show.
Specifically, they're going to let the world see, for the very first time, three new concept vehicles. SUVs all, these concepts set out to highlight Mitsubishi Motors' "innovative engineering" and their commitment to "the concepts of environmental responsibility, driving pleasure, toughness and safety."
So far all we have to go on are some stylised quasi-silhouettes and the vaguest of information. That's the trouble with world premiers. Everything needs to be kept under wraps until the big day arrives. But still, let's have a look at the information we have to hand.
Mitsubishi Go Green!
One of the models promised is the Mitsubishi Concept GC-PHEV. As GC stands for "Grand Cruiser" and PHEV stands for "plug-in hybrid electric vehicle", it seems that here Mitsubishi are attempting to combine the economic and environmental benefits of green motoring with the practical aspects of an SUV.
The Mitsubishi Super All Wheel Control (S-AWC) integrated vehicle dynamic control system makes for optimum handling and stability, not to mention some serious off-road all-terrain capability.
The second promised model is the Mitsubishi Concept XR-PHEV. PHEV once more refers to plug-in hybrid technology, whilst the XR identifies this concept as an X (cross) over Runner. Details on this one are even more opaque, but expect a next level compact SUV that adds sporty coupe stylings to the enhanced environmental performance and all-terrain practicality.
Space Is The Place
Finally, the Mitsubishi Concept AR (Active Runabout) proclaims itself to be a next-generation compact MPV that adds significantly more space to the SUV equation. Though not a plug-in hybrid, nonetheless the latest fuel efficiency technologies are promised, including a down-sized direct-injection turbocharged engine.
Apart from that, we're in the dark when it comes to these three new Mitsubishi concepts. Literally – look at those images! But once the Tokyo Motor Show comes to pass (November 22 – December 1), we'll spoil you with whatever details we can get our hands on.