Nissan at the 2013 Geneva Motor Show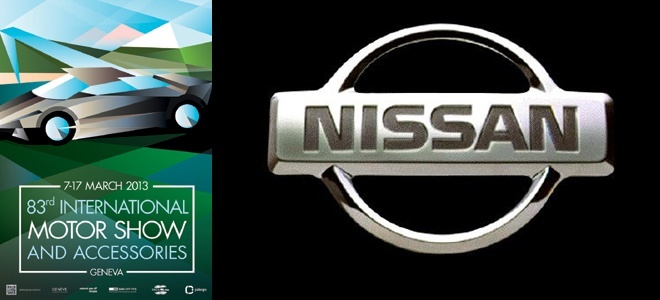 Designed for Europe and built in Europe
According to Nissan, "The 2013 Geneva Motor Show marks the start of another exciting chapter in Nissan's history. Driven by a passion for delivering future technology today, Nissan is showcasing a new generation of innovative European designed, engineered and built models that will redefine standards in their sectors."
And this statement is difficult to argue with when you look at what Nissan are putting on show in Geneva.
From the future next generation of Nissan crossovers in the shape of the Resonance concept (apparently inspired by a theme of VIP space travel) to the new Nissan Note and the updated Nissan LEAF, it is obvious that Nissan are looking to innovate, excite and redefine.
And when it comes to new model launches there's the striking Juke Nismo and 370Z Nismo, that officially launch Nissan's Nismo road car range to the European market, the 2013 Nissan GT-R model and a striking addition to the Juke range in the shape of the Nissan Juke n-tec.
You want to know more? Then read on.
The New Nissan Note
Innovative, technological and advanced, the new Nissan Note is a pretty good bet to shake up the B-segment of the car market.
Right from the start it was designed with Europe in mind, engineered to suit Europe's roads and built in Europe with European workers and knowledge; just how more European could it be?
The whole thing started with the acclaimed Invitation concept car and is now making its way to the showroom floors, bringing with it bold looks, premium class technology, superb practicality, low CO2 emissions and advanced features such as Nissan's innovative Around View Monitor and Nissan Safety Shield system.
The New Nissan LEAF
Zero Emissions technology is ever expanding, with new discoveries a constant feature of research; and Nissan are now using these findings to help take this technology to the next level.
Like the Nissan Note, the new European built LEAF has been developed and engineered specifically for the European market. Now a full part of the Nissan future, and built at Nissan's Sunderland facility, it features new technologies that deliver improved real-world battery autonomy and improved driving pleasure.
The ground-breaking original Nissan LEAF has produced around 50,000 happy customers and the now significantly expanded new LEAF range that will be on show in Geneva will be showing buyers that not only will it be around for a long time but that it will also offer more choice on equipment, colour and price.
The Nissan Resonance Concept
It's all part of Nissan's bold vision for the future of crossover design and it will be on European view for the very first time in Geneva.
Originally created by the creative minds of Nissan Design America, the Resonance showcases fresh ideas and new technologies that "allow drivers to fully exploit the potential of their cars." From the country that gave us the first ever moon landings comes an interior inspired by the concept of VIP space travel – whenever that is going to happen – and an equally advanced hybrid electric drivetrain that combines ultra-efficient performance with low emissions.
The Nissan Juke Nismo
Part of the new Nismo car range, Nissan has chosen the increasingly popular Juke to help spearhead the introduction of the brand into Europe.
Nismo is one of the most revered names in both motorsport and gaming, so it is no surprise that Nissan boast that the Nissan Juke Nismo "captures the spirit of innovation and driving excitement" that you would expect of the name, as the car brings "affordable and accessible performance to the crossover market."
Powered by a 1.6-litre 200PS DIG-T turbocharged engine, the Nissan Juke Nismo combines sharp performance with affordable running costs.
The 370Z Nissan Nismo
Hot on the heels of the Nissan Juke Nismo, the new 370Z Nismo is equipped with a modified version of the original 370z's acclaimed six-cylinder powerplant that is capable of producing more power and torque, a reworked chassis and a new exhaust system to make sure that this fastest 370Z to date sounds just as exciting as it looks.
The 2013 Nissan GT-R
The Nissan GT-R has its very own high standards, yet the 2013 model somehow manages to raise these up even higher with sharper performance, improved high-speed stability and more responsive handling to offer the high-performance motoring that you would expect.
The new and improved model has been inspired and driven by Nissan's successful racing programmes, and has a list of detail improvements longer than your arm that includes new injectors for accurate fuelling, a new turbo relief valve that delivers improved flexibility, and a revised suspension set-up.
What does all this mean apart from looking better, performing better and making the driver look better? Hoe does 100km/h in 2.7 seconds sound (0.1 seconds quicker than the 2012 model year car)?
The Nissan Juke n-tec
Just when you though a Nissan Juke couldn't get any better, along comes the new Nissan Juke n-tec model, the latest advanced variant of a model that goes from strength to strength.
The n-tec not only offers more innovative technology and a striking design package, but within the whole kit and caboodle comes the enhanced Nissan Connect system with Google's Send-To-Car-Technology. This features the ability to send routes to the car for forward planning, complete access to Google's Points of Interest Database and clearer navigation mapping along with a larger 5.8-inch screen and many other features.
"Despite challenging economic conditions, Nissan has proved that design, innovation and affordability are key components for success. In 2012, NMUK in Sunderland produced over 500,000 cars (a new record), while production facilities in Russia and Barcelona are also expanded to meet increased demand. Total European production has just passed a significant milestone - 10million vehicles have now been produced."
Nissan are also planning pure electric versions of the award-winning NV200, to be called e-NV200, in both light commercial van and seven-seat combi versions as well as a dedicated EV taxi based on the e-NV200 with an Infiniti EV expected in 2015.