Around O'Golf At The Geneva Motor Show

THE ALL-NEW GOLF GTI IS READY TO ROCK THE ROAD.
The simple letters GTI have always stood for dynamic performance since we first became aware of them over 3 decades ago, and the same feeling is held at Volkswagen itself, whichever model the letters are attached to.
So now, please be upstanding for the latest version of the Golf GTI which is being presented for the very first time at the Geneva International Motor Show.
Right from the start it is different because, for the very first time, this compact sports car is available straight from the factory with two immediate power levels: the standard 220 PS GTI and then a step up to the GTI Performance with 230 PS, larger brake discs and a front limited-slip differential (VAQ).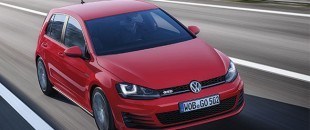 In the standard GTI, the bonnet hides a turbocharged direct-injection petrol engine (TSI) with 162 kW / 220 PS which is boosted to 169W / 230 PS when it comes to the GTI Performance.  And although both GTI models develop a maximum torque of 350 Nm, there is a difference in acceleration and top speed with the standard GTI's 0-62mph acceleration time being 6.5 seconds against the Performance's 6.4, and top speeds contrasting at 152 and 155 mph respectively.
Obviously some things stay the same: Both versions have Stop/Start systems; both fulfil the EU-6 emissions standard taking place in 2014, both have the same low fuel consumption value of 6.0 l/100 km, or 47.0 mpg (CO2: 139 g/km) with the six-speed manual gearbox (which can be optioned upwards to the six-speed DSG gearbox which achieves fuel consumption figures of around 44mpg and 148 g/km CO2).
If you want percentage comparative figures, that's a massive 18% fuel economy improvement when sat next to the old Golf GTI.
If you want sportiness then you have also come to the right place. The Golf GTI has red-painted brake callipers, two chrome tailpipes, sports suspension, 17-inch 'Brooklyn' alloy wheels with 225/45 size tyres (with 18-inch 'Austin' alloys standard in the UK – bigger and better), special side sills, a rear diffuser and smoked LED rear lights, along with LED numberplate illumination. As well as those wheels, Volkswagen has decided that the UK customer deserves a bit more so they have added in bi-xenon headlights with LED daytime running lights as an extra for us Brits.
The Golf GTI's sports seats are clothed in the classic tartan cloth upholstery, there is black rooflining and red ambience lighting inside as well as the bespoke sports steering wheel, gear lever and instrument cluster, trim strips and stainless steel pedal caps.
Volkswagen Retailers in the UK will start taking orders for the new GTI on 26 March, with first deliveries due in June 2013, but for now it's over to Geneva if you want to see one in the flesh (or metal.)