Peugeot Hits the 2013 Frankfurt Motor Show Running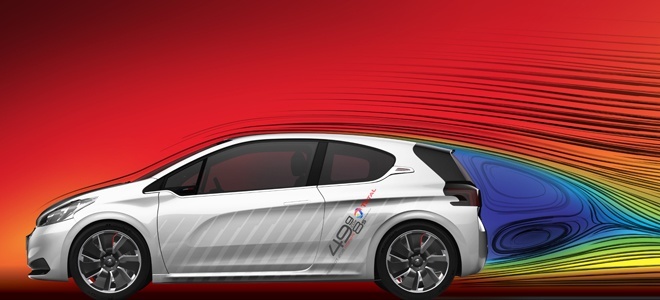 It's one of the top European Motor Shows and Peugeot's appearance at The Frankfurt Motor Show means that they will not only be showing off some of their successes in the auto manufacturing arena but also previewing and debuting some of what they hope will be successes too!
There's the world premiere of the new PEUGEOT 308 hatchback to look forward to and the show debut of the 308 R Concept; there's an announcement to be made about ultra-clean BlueHDi diesels; and they'll be showing off their successful competition cars, the 208 T16 Pikes Peak and the 208 GTi Nürburgring as well as the 208 HYbrid FE, 2008 HYbrid Air Concept and HYbrid4 diesel-electric hybrid cars and their new performance flagship the RCZ R with its partner, the Onyx Supercar Concept.
Without a doubt, the PEUGEOT stand at the 65th Frankfurt Motor Show will be a stand to aim for when visitors pour through the doors.
THE NEW PEUGEOT 308 HATCHBACK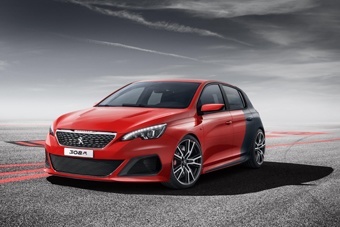 Part of 30 cars that make up the PEUGEOT stand, this compact family hatchback has many of the brand's future hopes to move upmarket resting on it.
Nine examples of the five-door range are there for all visitors to see and inspect both inside and out; taking in the "refined and contemporary exterior design, the revolutionary and intuitive PEUGEOT i-Cockpit interior and the exceptional feeling of quality and sophistication, all backed up by a range of modern and fuel-efficient powertrains."
The PEUGEOT 308 is the lightest model in its segment, built as it is around the all-new Efficient Modular Platform 2 (EMP2) architecture, and it is also incredibly compact with an overall length of 4.25 metres, it's also the most compact. Yet it somehow offers a very generous interior space.
Technologically-advanced and created from high quality materials, besides the compact steering wheel, elevated instrument panel, high centre console and 9.7" touch-screen it also offers up advancement in driver's aides including Blind Spot Monitoring, Dynamic Cruise Control, Emergency Collision Alert System and Emergency Collision Braking System. All you need to do is drive.
From launch there will be five petrol and HDi diesel engines available, and Peugeot have made sure that financial considerations and the environment are catered for with class-leading fuel economy and low CO2 emissions very much to the fore.  In fact, the environmentally aware will be drooling over the 1.6-litre HDi 92 which has CO2 emissions of just 93g/km.
That's just for starters when it comes to engines because for those with a little bit of patience – and that will be a hard thing to deal with when it comes to the new Peugeot 308 – in Spring 2014 the all-new car will be the first PEUGEOT car to benefit from an innovative three-cylinder turbocharged petrol engine in the shape of the 1.2-litre e-THP, along with BlueHDi models that will include an engine with emissions of just 82g/km. Together they will ensure that the PEUGEOT 308 will be able to draw almost every taste and every budget into its tempting clutches when it goes on sale in the UK in January next year.
The PEUGEOT 308 R Concept
Alongside the Peugeot 308 making its World debut is the '308 R Concept', a radical sports show car with lowered posture, wider track, prominent haunches and dramatic 19" wheels that Peugeot hope will not only satisfy customers' expectations but also push their perceived boundaries to the limit. Underneath the carbon fibre two-tone skin of the 308 R Concept is a 1.6-litre four-cylinder petrol engine with front-wheel drive transmission through a TorsenTM differential and very large brakes.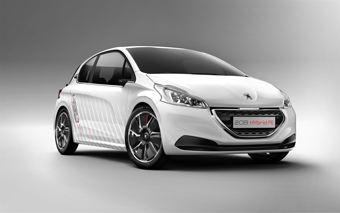 PEUGEOT BlueHDi engines
Peugeot have always had a massive commitment to low CO2 motoring, demonstrated by statistics that reveal that, across their entire range at the end of May 2013, the average emissions were 116.3g/km – down from 121.5g/km in 2012.
This has been mainly achieved by the on-going optimisation of internal combustion engines (with the introduction of new generation engines like the family of 1.0-litre and 1.2-litre three-cylinder petrol engines), improved efficiency, downsizing and development of technologies like Stop & Start and diesel-electric hybrids.
At the Frankfurt Motor Show, PEUGEOT will be showing off its new BlueHDi diesel emissions control technology on the new 308 and 508 SW that will reduce NOx emissions by up to 90% to optimise CO2 emissions and fuel economy while eliminating 99.9% of particulates by combining 'Selective Catalytic Reduction' (SCR) and diesel Particulate Filtration with additive (FAP).
PEUGEOT 208 T16 Pikes Peak
It's always good to show off your successes, and Peugeot are no different as they will have the accomplished 208 T16 Pikes Peak challenger that demolished the previous record on the mythical American trial this year courtesy of its 3.2-litre 875bhp V6 twin-turbo capable of 0-62 mph in just 1.8 seconds on display on their stand. Driver (and official legend) Sébastien Loeb smashed the record for the 12.8-mile Colorado ascent, cresting in 08.13:878 minutes.
Also there will be another special 208 – the Peugeot GTi car which, with two other 1.6-litre 300bhp turbocharged petrol engine cars, finished first, second and third in class in the Nürburgring 24hr-endurance.
PEUGEOT's Hybrid environmental commitment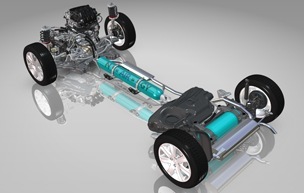 Hybrid's are growing in stature along with a consumer desire to be greener than they have been, and Peugeot's HYbrid4 diesel-electric hybrid technology, will be on display at the Show in the shape of the 3008 HYbrid4 (a world first), 508 RXH and 508 Saloon HYbrid4. Already out there in the marketplace, they have already found more than 28,000 customers worldwide.
But there are no laurel restings in place at Peugeot. PEUGEOT want to create the first ever affordable production vehicle to achieve in excess of 141mpg, and HYbrid Air technology is their first step towards this objective as they have developed the PEUGEOT 2008 HYbrid Air; a car which combines a petrol engine and a compressed air powertrain.
On top of this they are also demonstrating a car that emits just 49g/km of CO2, yet can accelerate from 0-62mph in just 8.0 seconds - the 208 HYbrid FE 'demonstrator', developed by PEUGEOT in partnership with Total.
The RCZ R and the Onyx Supercar Concept
Continuing the 'Show-Off' moment is the exclusive RCZ R, the most powerful production model in the history of the Marque and the Peugeot Onyx Supercar Concept, powered by a 600bhp V8 hybrid HDi 3.7-litre mid-mounted engine with electric motor mated to a six-speed sequential gearbox.
As I said: one to watch.