Porsche Reveal All-Star Le Mans 24 Hours Line-Up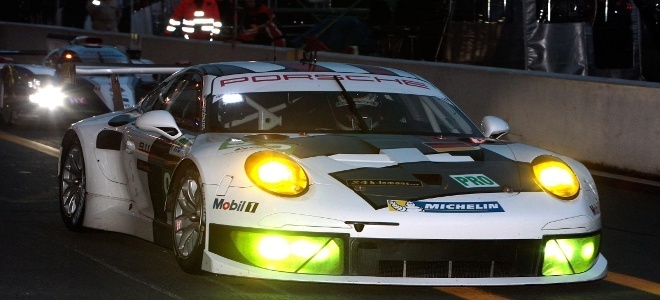 Le Mans 24 Hours is fast-approaching, and excitement is growing as the various teams reveal their plans

Le Mans 24 Hours takes place 22-23 June – hey, that's tomorrow! - and is one of the most famous and greatest challenges in the world of motorsport.

Porsche have revealed that they intend to enter two Porsche 911 RSR race cars on the Circuit des 24 Heures, joined by Porsche customer teams from Europe and the US.

The Le Mans 24 Hours is actually round three of the sports car World Endurance Championship (WEC). Keen to get their hands on the double points available, across the classes Porsche will enter such heroic drivers as Germany's Joerg Bergmeister and Timo Bernhard and France's Patrick Pilet and Romain Dumas.

Hollywood star Patrick Dempsey, of Grey's Anatomy fame, will also be returning to the action, so too will be star cars from the 2012 Le Mans 24 Hours - the Type 997 Porsche 911 GT3 RSR and the IMSA Performance Matmut, which finished in second place last year.

Porsche 911 RSR

Based on the seventh generation of the iconic 911 sports coupe, the 270hp Porsche 911 RSR (pictured) is the successor to the 911 GT3 RSR that has won Porsche many victories and titles since 2004. With its lightweight design, optimised aerodynamics and flat-six rear engine, its look is dominated by flared wheel arches, whilst distinctive styling pays tribute to the 50th anniversary of the 911 brand. This is very much a Porsche signature car that will prove a major talking point in a weekend full of things to talk about.

Says Porsche head of motorsport Hartmut Kristen: "For our teams and drivers Le Mans is an extraordinary challenge for which we have always prepared very carefully.

"We would have preferred a little more time to test specifically for dry conditions, but we are quite happy with the results we have achieved at the preliminary test at the Circuit des 24 Heures. This is especially true for the performance of the 911 RSR.

"Since the WEC races in Silverstone and Spa we have made good progress."

strong>Le Mans 24 Hours – The Schedule

The action of Le Mans 24 Hours 2013 has already commenced, with the free practice held on Wednesday 19 June. This was immediately followed by the first qualifying round, with two more qualifying sessions taking place on Thursday 20 June.

Le Mans 24 Hours will kick off in earnest on Saturday 22 June at 15:00 hours.

If you wish to watch the action, live broadcasts of the race alternate between Eurosport International and Eurosport 2, alongside numerous related programming including news, interviews, portraits and background reports.

Alternatively, you can watch the entire Le Mans 24 Hours online here.