Want to Raise Money For Charity And Look Good at the Same Time?

BRAKE LOOKING FOR 35 DARE-DEVILS TO SKYDIVE IN AID OF THE 35 FAMILIES BEREAVED EACH WEEK BY ROAD DEATHS
Recently revealed government statistics have shown that 35 people every week are killed on the UK's roads, so independent road safety charity Brake has put an appeal out for 35 adventure-seekers to try and raise awareness of this fact and to also generate funds in aid of the charity's work.
Last year 27 people skydived for Brake, raising a fantastic £13,500 for the charity, including Lianne Matkin from Corringham in Essex who made the jump in memory of her brother, who was tragically killed by a drink driver in December 2006. (See main photo.)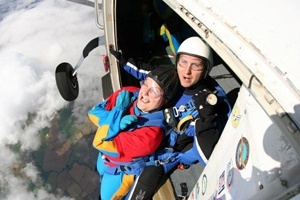 Lianne says: "My friend Maria and I did the parachute jump for Brake. I wanted to do something my brother would be proud of, and to raise money for Brake to support all the valuable work they do educating people on road safety and supporting the victims of road crashes. Even though I'm scared of heights I thought this would be a great way to raise money and get over that fear. On the day I was nervous but it was the most amazing feeling I have ever had and I am so glad I did it! I can't urge people enough to try it, so I really hope more people will sign up this year."
So Brake is once again calling for people to sign up now to skydive over the summer to generate much-needed funds for its work campaigning for safer roads and caring for families bereaved and injured in crashes. Every penny raised helps Brake to support families whose lives have been torn apart by road death and injury, including through a helpline and support packs, and to promote road safety nationally and within communities, schools and organisations.
All fundraisers get a pack contains a t-shirt, sponsorship envelopes, advice on raising funds, and information on Brake's work, but don't be scared about jumping. It's not as if they'll just chuck you out of a plane without any advice or training. You actually get to spend a whole day training for the jump before performing it harnassed to an experienced parachute instructor.
You jump from at least 10,000 feet - just like the professionals – and freefall 5,000 feet, before parachuting to the ground from there. You will learn how to steer onto the drop zone with the landing controlled by the instructor, and at the end you get a certificate to say that you have completed a "two mile high" tandem skydive – which is a bit different from the mile-high club in more ways than distance.
Skydives take place every weekend at venues around the UK , and all skydivers are asked to do is raise a minimum sponsorship of £400 which covers the cost of the jump as well as "generating valuable funds for Brake's work campaigning and educating to prevent devastating road casualties and make communities safer, and caring for people bereaved or injured in road crashes."
Just think of the money you could raise, the lives you could help rebuild and the kudos you'll get from your friends having fallen out of a plane up there in the sky!
Lisa Kendall, community fundraising manager at Brake, says: "Skydiving is a thrilling way to support a critical charitable cause while having a brilliant time. By facing your fears and jumping for Brake you'll be helping us support families devastated by road crashes, and keep campaigning for safer roads for everyone. Last year an amazing 27 people jumped out of planes for us and every one had an amazing time while making an important contribution to Brake. This year we're trying to get even more people to sign up and so I encourage everyone who likes a challenge to follow their lead and register now."
To skydive for Brake, complete Brake's online form, email Lisa on fundraise@brake.org.uk, or call 01484 683294. Find out about other fundraising opportunities at www.brake.org.uk/fundraise.