Renault Mégane Coupe Cabriolet Gets a Facelift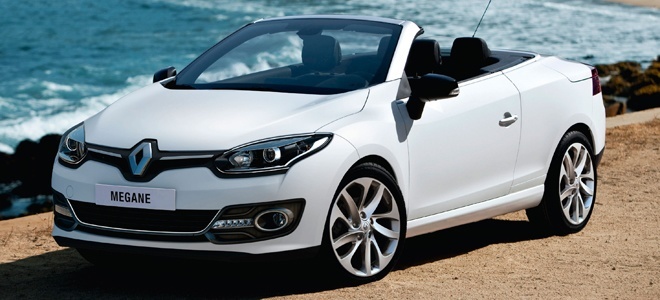 Renault has been busy as it updates its image with new 'family traits' and the new Mégane Coupé-Cabriolet is the latest vehicle to feel the full force of Renault's push away from economic meltdown. Having already transformed the Mégane Hatch, Mégane Coupé and Mégane Sport Tourer, the Mégane Coupé-Cabriolet is to be unveiled at the Brussels Motor Show in January 2014, and already drooling has started amongst the 'Mégane Massive'.
It's not just the distinctive Renault diamond set to a gloss black background on a new bumper – because that would be just cosmetic – and it's not just the new little touches that Renault have decided on to unify all the cars under a dynamic and elegant Renault family banner.
There's also the addition of the connected Renault R-Link multimedia system that is now standard on the full UK line-up of Mégane Coupé-Cabriolet, complete with a smart, chrome-trimmed 7" (18cm) display showing e-mail, weather forecasts and other applications, controllable via a centre console-mounted joystick.
Mégane Coupé-Cabriolet lovers will no doubt be delighted that the largest panoramic glass roof in the coupé segment is still there and that, top down, it still has that inimitable open-air experience that it has always had without the usual drawbacks of coupé driving. This is mainly due to the standard fixed glass wind deflector, the only one of its kind in the segment, that keeps turbulence down to a minimum whilst providing maximum comfort for four passengers up to speeds of 55 mph; but the new Mégane Coupé-Cabriolet has available as an option a removable mesh deflector screen so that two occupants travelling alone can be protected from buffeting at all speeds.
Created at Renault's Douai plant in France alongside the Renault Scénic, Grand Scénic and Scénic XMOD, the new Mégane Coupé-Cabriolet is likely to be available in the UK in mid-2014, with a full specification planned to be available in January.
And you'll hear about it here first!