Renault Zoe in Scalextric Internet Film
LONDON HOSTS A FULL SCALE CIRCUIT RACE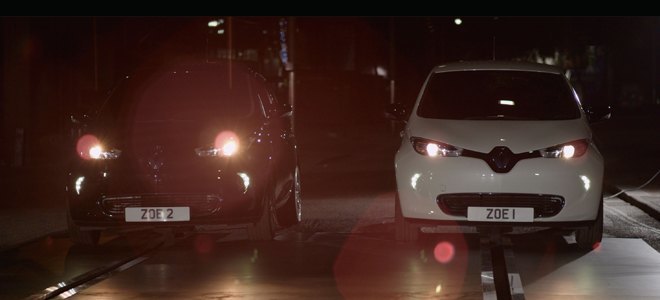 Let's be honest; Xmas telly is pretty damn rubbish, isn't it? If it's not death, disaster, tears and tantrums in Soapland, it's the same in days of yore in an Abbey.
So maybe it's time to switch on the computer and have a look at what Renault have been up to lately – and I can tell you it's a lot better than sandwiches made from the leftover turkey that has been in the fridge since Christmas Day wrapped in foil.
In 2013, Renault has already given us two sensational videos that showed customers getting more than they bargained for during a Clio test-drive, and now the French car manufacturer has turned its attention to the Renault ZOE, their recently launched electric supermini.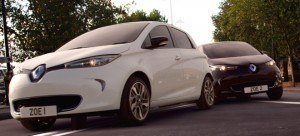 But as with the Clio videos (5,000,000+ YouTube views) not is all as it may seem as you can see here.
Depending on whether you have just clicked and watched or not, you'll see that the video comprises of two full-size ZOEs racing on a specially-constructed Scalextric track against the iconic background of central London.
The film last three minutes, and viewers get to see the track being prepared at night so that the next day's action can take place; and at dawn two lucky online Facebook competition winners "take flight in a specially chartered helicopter for the occasion to pilot their real-life ZOEs".
AND THEN IT'S THE RACE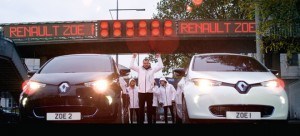 The Renault Zoe cars in polarised opposite white and black race along a 1.9-mile specially created track that starts at the London Eye on Southbank, goes over Westminster Bridge, along Embankment and The Strand, back over the Thames along Waterloo Bridge, and round the BFI London IMAX cinema before hitting the final straight – all controlled by the 'helicoptered' winners.
"We really wanted to create something attention-grabbing for our electric vehicle range," said Renault UK Marketing Director, Phil York. "Given our passion for motorsport, particularly in Formula 1, and the benefits of electric models in urban areas, racing our flagship model around the streets of the English capital was a perfect scenario. Renault ZOE is eye-catching, cheap to charge, London Congestion Charge exempt, as well as free from emissions and pollutants in use."
I'm not going to tell you who wins (It is a Battle of the Sexes though!) but for three minutes or so away from Mrs Brown's Boys it is certainly worth a watch – and also a pretty good advert for the Renault Zoe.