Rico Rally - 6 Days, 50 Cars, 2,000 Miles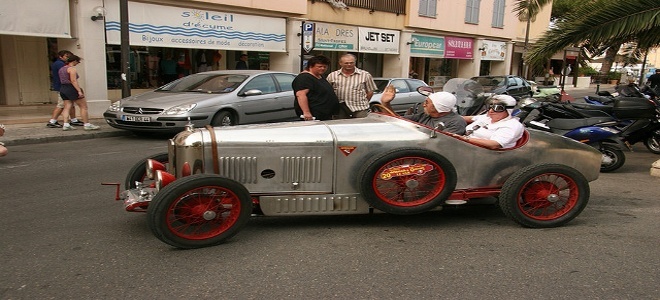 Get Ready To Add The Rico Rally To The List Of Things You Wish You Were Doing Today
The Rico Rally 2013 is a six day, 50 car, 2,000 mile road trip across some of Europe's most beautiful, iconic and awe-inspiring locales. Think of a cross between The Italian Job and the lush product-placement scenes from the recent Bond films and you're probably halfway there.
But the best thing is, anyone can take part!
The Rico Rally is open to "all makes, types and age of car", the only proviso being that there are but 50 places handed out on a first come first served basis.
Want to take part? Of course you do.
The bad news is that you've missed the boat for Rico Rally 2013. It started on June 9 and will run until June 14. But the good news is that you've more than enough time to get into gear for Rico Rally 2014.
Rico Rally 2014
The 2014 Rico Rally will again involve 50 cars tackling 2,000 miles over the course of six days, 22-27 June 2014. Next year's route will take in Leon, Route Napoleon, St. Tropez, Monaco, Col De Turini, St Gotthard Pass, Furka Pass, Grimsel Pass and Strasbourg.
Sounds very exotic. And it only costs £980p/p to take part.
I'll give you a moment to wipe up the tea you just spat out in disbelief. Yes, £980p/p. And yes, you could likely drive to those places yourself for that much.
But to take part in the Rico Rally is be part of something big. It's not a race, a time travel or a guided tour. Rather, it's a navigational road trip on which you're given a start and end point for each day, along with a suggested route. You're expected to find your own way at all times.
So, yes, whilst it does sound like they're asking for a grand in exchange for the pleasure of driving somewhere of your own accord, but in exchange for your entry fee you're granted access to a launch event and a last night party, as well as secure parking throughout the route. Your channel crossings and accommodation are inclusive, with hearty breakfasts promised each morning.
Did We Mention The Stickers?
So even if you were to undertake this route under your own steam, with all the logistics of travel and accommodation you might end up paying more than a grand anyway. You'd also miss out on the inevitable sense of camaraderie and the opportunity to forge friendships that will last a lifetime.
Your entry fee also includes a full sticker pack. Imagine being able to exchange knowing nods and smiles of understanding whenever you spot a fellow stickered car.
We may report on the outcome of the Rico Rally 2013 once it's reached its conclusion, but if you fancy taking part in the 2014 event, all you have to do is fill in a form on their website.
Image via Flickr user: James Bremner