Safe News for the Infiniti Q50
"ONE OF THE SAFEST CARS ON THE ROAD"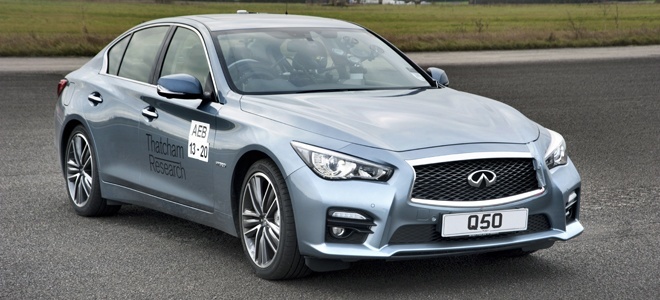 As a car manufacturer, you want to know that your customers are safe when they drive your cars, and Infiniti are no different when it comes to the Infiniti Q50. So the news that, following some recent tests carried out by Thatcham, the Motor Insurance Repair Research Centre, is especially welcome.
Looks like that advanced standard fit collision avoidance system that the Infiniti Q50 has is proving its worth, together with the five star Euro NCAP rating that it recently earned.
It seems that Infiniti Q50 really is one of the safest cars on the road.
Thatcham's Chief Executive Peter Shaw explains: "The majority of accidents on our roads are caused by driver distraction often at junctions. Autonomous Emergency Braking (AEB) systems can warn the driver of the potential danger ahead and then automatically slow the vehicle down or even bring it to a complete halt if necessary. Here at Thatcham we assess these systems in the Insurance Group Rating "City" test on behalf of UK insurers to evaluate their performance in the most common type of crash: the front-to-rear shunt".
"In the test we drive the car under robot control at speeds of up to 50km/h towards a unique soft target representing another vehicle, and we measure how well the car performs at avoiding a crash or reducing the impact speed. The Q50 not only avoided the crash at the maximum 50km/h test speed, the Infiniti engineers were confident that it could also do the same at 60km/h, and so it proved. This is a remarkable achievement and as such the Q50 is one of the best performers we've seen to date."
Looking deeper into what it is that the Infiniti Q50 has elicit such a favourable response, you can fully understand the comments of Peter Shaw (especially the final sentence!)
The Infiniti Q50 uses a highly specified radar system that utilises several cameras located around the vehicle to constantly monitor the surrounding area around the vehicle, and this allows all the other systems included in the car to work together to reduce the risk of an accident ever taking place.
Every Infiniti Q50 includes, as standard, many safety-oriented features that include: A seat belt reminder system for all seats, Speed limiter, Active pop-up bonnet to ensure pedestrian safety, Electronic Stability Control with Active Trace Control, LED fog lights front and rear, Tyre Pressure Monitoring System, Hill start assist, Six airbags, Rear view camera and front and rear parking sensors.
And if that isn't enough, there is an optional Safety Pack available with many more safety features (including Forward Emergency Braking) than can help with:
Reversing; Back-up Collision Intervention. This detects anything at all behind the car when reverse gear is initiated – anything from another moving vehicle and stationary object to a pedestrian completely ignoring the fact that you are reversing -  and warns the driver visually and audibly; even to the extent that it will activate the brakes automatically if you ignore any other signs so that collisions are avoided.

Drifting in and out of lanes; Lane Departure Warning and Lane Departure Prevention. A first in the car industry, this system senses if you are drifting unintentionally from one lane to another, and helps the driver back into the centre of the lane that they are supposed to be in.

Working with Blind Spots; Blind Spot Intervention and Blind Spot Warning. Again this is another piece of world-first technology that helps the driver to see any vehicles or objects hidden in the blind spot that every vehicle has – especially during lane-change manoeuvres.

Avoiding motorway hold-ups; Predictive Forward Collision Warning. PFCW (as Infiniti call it) is a system that looks ahead for the driver two cars ahead, way beyond the driver's field of view. So avoidance can be put into place in the driver's mind.

Low-speed manoeuvring in busy areas; Around View Monitor with Moving Object Detection. Using Infiniti's world-first real-time camera system, the driver is able to get a virtual 360 degree view of the environment around the car, with 'hazards' being warned again visually and audibly.
It's almost like you don't have to think when you drive an Infiniti Q50.
A proud Fintan Knight, Vice President for Infiniti Europe, Middle East and Africa said: "Today's drivers need all the help they can get to stay relaxed, comfortable and safe behind the wheel which is why the Q50 is available with many innovative new safety systems. Infiniti leads the way in introducing new safety technologies and the Q50 is available with more of them than ever before. As our new-generation standard bearer the Q50 shows just how committed we are to road safety and to keeping the brand in the forefront of safety in the future."