Safe As A Subaru in Hull
What and Where To Drive to Avoid Accidents
The UK's number one comparison site, MoneySupermarket.com, has taken time away from helping people be 'so moneysupermarket' to look at over 13 million car insurance quotes, and has found out which car manufacturer (in a study of the top 35 favourite brands) makes the cars that have fewer insurance claims made for 'at fault' reasons – and the result may surprise you.
Subaru has an image of being a brand for boy racers; well, if it is, those boy racers are driving very carefully because they are top (or bottom of the list depending on your view) when it comes to fewest number of claims with 62.9 claims per thousand drivers, followed by Smart and Fiat with 63.1 and 66.6 respectively. In fact, the boy racer tag shouldn't be attached anymore because the study also showed that the Subaru drivers, primarily of the popular Impreza model, are more likely to be in their thirties and forties rather than the young and deadly (Maybe they are ex-Boy racers, now grown-up and sensible?) And at that age they are more likely to look after their car-based pride and joy.
Even the experts at MoneySupermarket were surprised. "A turn up for the motoring books!" said Peter Harrison, one of the car insurance experts there. "The Subaru is shedding its image of a car for pure petrol heads, and is actually being driven by older, safer drivers instead of the 'drive it like they stole it' younger motoring generation."
So does this mean that a Subaru is a lot cheaper to insure than other cars? NOPE!
Peter Harrison again: "Interestingly, though, the fact that Subaru drivers are least likely to make a claim, doesn't directly translate into them paying the cheapest premiums. While claims are one factor insurers take into account when setting premium prices, other factors also play a part. These include the engine size, the number of miles you clock up, where you park, and your profession amongst other things. Smaller cars are generally cheaper to insure as the cost of repairs and parts are likely to be lower than those on more premium models. If you want to pay less for car insurance, it is worth considering these factors when choosing your motor as this will help reduce the overall cost of running a car."
Maybe this is why cars like the Fiat Cinquecento has lower premiums than the Subaru Impreza – or maybe because when it comes to individual cars, that is the car least likely to be claimed for? (Or are people too embarrassed to admit to driving the same car as one of The Inbetweeners?)
As Peter Harrison said, it's not the claim rate that determines the premium; there are other factors. Here's Neil Greig, director of policy at The Institute of Advanced Motorists: "Noisy hatchbacks done up in dubious taste might not be easy on the eye but they are often looked after with tender love and care by their doting owners. From Audi to Volvo the best drivers take care of their driving and their cars because they know crashes will cost them in terms of higher premiums and ultimately second hand value."
Obviously, the research wasn't good news for every car maker – someone had to be bottom of the pile, and it's a proverbial slap on the wrist for SEAT, KIA and MINI who take the top three places ahead of Honda and Mazda in 4th and 5th place. It should be noted that they are all quite close when it comes to claims per thousand drivers (94.1 for SEAT to 88.8 for Mazda.)
"Being involved in a motor accident, however severe and whether you are at fault or not, can be a very traumatic and costly experience," says Peter Harrison. "Claiming for either an 'at fault' or 'not at fault' accident will have an impact on the cost of your car insurance premiums. Our research shows the average claim value for an 'at fault' accident is £3,025, and these types of claims represent more than half of all those registered on the site. Whether you own a Subaru or a Seat, it is worth remembering that car insurance prices vary considerably, so it is important to shop around and get the best deal that meets your requirement."
Speaking of shopping around, be careful when you are out shopping or just driving in Watford because that is the area that has the most claims per thousand drivers with 180 claims per '000. And it is in the south of England – and NOT in inner London I should add – that lay claim to the remainder of the Top Five with
Hemel Hempstead, Chelmsford, St Albans and Enfield completing the list; all of them in some way connected to London in some way be it a commuter town or an overspill area.
Pete Harrison again: "Living in a commuter town like Watford or Hemel Hempstead will have an impact on the level of the car insurance premium you will pay. Heavily congested areas, particularly around key commuter routes such as Greater London mean statistically you are more likely to make a claim. Regardless of whether motorists are making the most of an open motorway, or are bumper to bumper on the daily commute, they should always be vigilant of their own driving and that of those around them."
A comment slightly contradicted by the fact that drivers in East London come 2nd in the list of lowest claimers (with Hull at the top with a claim rate of 110.6) but the fact that this is closely followed by drivers in Welsh community Llandrindod Wells, Cornish City Truro, and Scottish town Falkirk maybe suggest that that is just a blip.
So it would make sense to drive a Subaru in Hull, a Fiat Cinquecento in East London, an Austin Mini in Truro or a Ford Ka in Falkirk than a Ford S Max in Watford, a Volvo XC90 in Hemel Hempstead or an Alfa Romeo Brera in Enfield, if you want to avoid claims.
But be aware that, as Peter Harrison says, "...even if an accident isn't your fault, and you make a claim on another driver's insurance policy, your own premiums can still go up. All accidents you are involved in must be reported to your insurer, whether or not they were caused by you. If you've recently been involved in an accident, your provider will assess you as being more likely to be in an accident in the future and will push up your premiums at renewal, making it essential to shop around for a better deal at renewal time."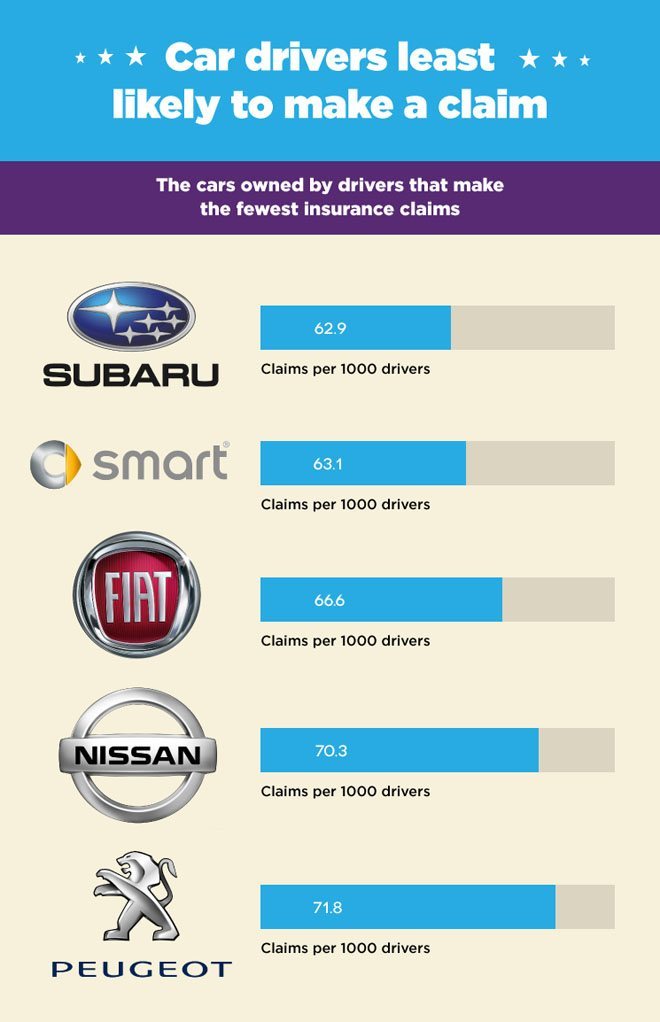 Image Source: MoneySupermarket.com