Ssangyong freshens up its Korando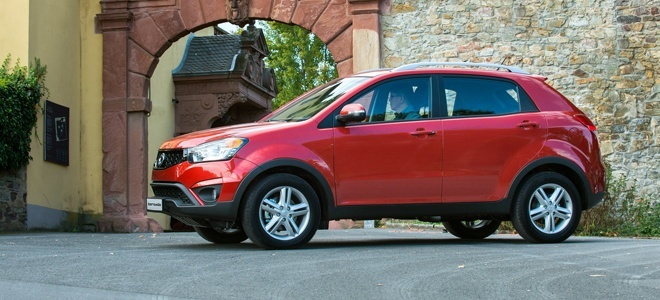 With SsangYong gaining more and more followers by the day, there will be a rush to get hold of the newly made-over Korando SE, especially as the car itself has already picked up The Caravan Club Towcar of the Year Award 2014 (for mid-priced vehicles) and a reputation for great value, high level of equipment, space and 2 tonne towing capability.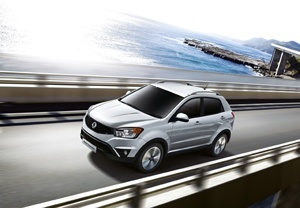 Made-Over Externally
At the front, a slimmed down, black mesh radiator grille, more contemporary headlights with projection lamps and LED daytime running lights, and a wider, low level air intake make up the more recognisable changes.
While at the rear, the rear light cluster includes LED lights for improved visibility and extra style.
The wheels have had a bit of a spruce-up too, with new designs for both the 16" and 17", and there are also three new exterior colours - Sunrise Red, Cosmic Blue and Carbonic Grey in addition to the existing Space Black, Grand White and Silent Silver.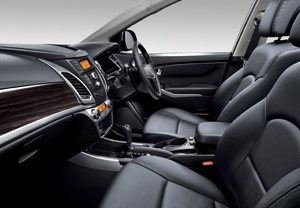 Made-Over Internally
Aah! The addition of the car manufacturer's favourite phrase to the car's considerable internal re-design: attractive and comfortable ambiance (whatever that means to you, the reader) for the driver and passengers alike.
They've also completely redesigned the dashboard so that it is soft to touch (so giving the impression of extra luxury) with natural matt wood grain insets, and a lot more storage space, especially for the driver on-the-go with enlarged cup holders, a mobile phone tray and flip-down sunglasses tray.
Made-Over under the bonnet
There are two transmissions available with the Korando: a 6-speed manual that ensures high fuel efficiency and smooth gear shifting, and a 6-speed automatic with optimum gear ratios for smooth, comfortable driving.
The new Korando is powered by a modern yet 'stood-the-test-of-time' 2.0-litre Euro 5 engine, with the top of the range ELX4 automatic featuring a smoothly efficient and powerful 175ps e-XDi200 diesel engine (that has a maximum power output of 175ps/4000rpm and peak torque of 360Nm/2,000-3,000rpm.) Those particular models in the range that feature manual transmission find themselves sporting the 149ps e-XDi200 engine which "delivers the same maximum power and peak torque as the automatic, and is perfect for lively driving as well as for going off-road and towing."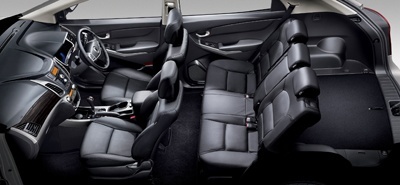 Efficient research and technology has made sure that there is a massive improvement on the new Korando when it comes to the reduction in noise, vibration & harshness (NVH), primarily by using stronger and reinforced mounting brackets on the engine which effectively reduce engine noise levels by up to 9.3%.
Made-Over under the car
With new Macpherson struts fitted to the front, multi-link suspension to the rear and three point mountings to the rear axle, comfort is practically ensured along with almost-zero noise and vibration; helped by the new rubber bushes that are now part of the car's reinforced sub frames to help reduce road noise.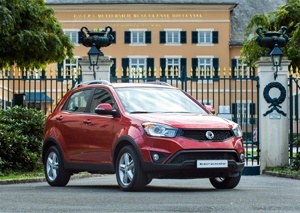 Made-Over Driving
Three of the four new models come with four wheel drive, which is good news for the high percentage of Korando customers who choose the 4x4 intelligent and advanced all-wheel drive (AWD) system from SsangYong that features a torque-on-demand system that uses its senses to conquer whatever road surface it encounters by changing its power ratios. When running on normal driving conditions, 100% of the engine's torque is delivered to the front wheels so that the car runs with optimised fuel efficiency, whilst the front and rear wheels get equal power distribution when on icy or slippery roads or on wet off-road conditions so that safety becomes the prime mover.
At home both on and off-road, the SsangYong Korando has some of the best in technology when it comes to safety with Electronic Stability Program (ESP) with emergency brake assist as standard, four-channel Anti-lock Braking System (ABS) to provide the best possible grip and control, Hill Start Assist (HSA) and Active Roll-over Protection (ARP).
According to SsangYong, the new Korando "offers the practicality and convenience of an SUV and the creature comforts of a saloon car" and is "...the perfect vehicle for both everyday use and leisure activities."
Available in four ranges (Korando – a crossover line-up with 2 or 4-wheel drive - Korando Sports pick-up - a rugged 4x4 double cab pick-up - Turismo – a spacious seven-seat MPV available with rear or all-wheel drive – and the Rexton W – a seven-seat off-roader with selectable 4x4), the question as to whether or not SsangYong are ready to take over the world or not is yet to be decided, but with the Korando they've made a good start.