Student Cars: Not Just For Record Attempts

FIRST-CLASS HONOURS IN RELIABILITY CARS
Despite the fees for going to University being at an all-time high, a record number of students will soon be heading off to learn more, live more and become the fine upstanding citizens that we know they will become – once they've got through Fresher's Week and novelty of the Student Bar hangover!
And soon there will be a record number of students wanting either mummy & daddy, or on the odd occasion their own savings, to get them one of the thousands of student cars that will be trundling along our nation's roads towards places of learning. (According to the Daily Telegraph, around 71% of parents make an average contribution of £3,300 to the purchase of their child's car and 40% buy their child's first car outright.)
But what car is best to get?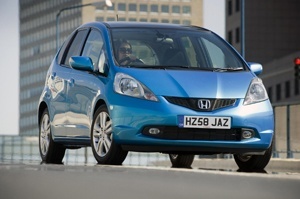 Obviously it's not a good idea to get a new car when you take into consideration just who is going to be driving it (and the state that they will often find themselves in: remember kids that drink/drug driving is illegal) so automotive experts Warranty Direct have decided to look at just what cars are top of the list for reliability so that parents can decide (or help to decide) the wheels upon which their child's further education will travel.
And the Honda Jazz was the car that came top of the list, ending up as the top choice for student cars.
Warranty Direct, in association with First Car magazine, took a look at their database of 50,000 live policies and took into consideration the rate of failure, average mileage, age and repair cost of cars using Warranty Direct's unique reliability index to decide on the top ten – and the Honda Jazz came top of the class and was the first up the steps to take the honours with a measly 1% of them breaking down in a typical year, costing on average £99.24 to repair.
That Reliability Index is exclusive to Warranty Direct, and with an average score of 100, the lower a car scores the better as it is calculated using a combination of the number of times a car fails or breaks down, the cost of repairing it, the average time it spends off the road needing repairs and being repaired and the average age and mileage of the cars of that make on Warranty Direct's books. The higher the Reliability Index Score, the worse a car is – and vice versa.
In 2nd place came the Citroën C1 with a 12 point Reliability Index score and a £184.58 repair cost and 3rd was old reliable, the Ford Fiesta, with 18 points and £215.49.
Other cars in the Top 10 were the Skoda Fabia, Toyota Aygo, Peugeot 107, Seat Ibiza, Toyota Yaris, Fiat 500 and Mazda 2 – all used cars but all under the 40 point mark on the Reliability Index.
But at the other end of the table was one of the (well-off) student's favourites: the MINI Cooper with 29% of these cars suffering a fault, and worse than that, costing an eye-watering average of £394.57 to repair each time; mostly with electrical and engine faults rather than having 23 students crammed into it!.
Duncan McClure Fisher, Managing Director at Warranty Direct, said: "Sending your children off to university is a major milestone in any parent's life. Often, this will be the first time your child has lived away from home and their safety and wellbeing will be of the utmost importance to you. The last thing you want is for them to drive away in a car you don't trust not to leave them stranded.
"We've looked at cars in the A and B sectors (city cars and superminis), as these are the cars most likely that parents might be buying their uni-bound children – thankfully, there are plenty of vehicles in those sectors that also provide the peace of mind that comes with reliability."
At least with these figures and this information, student cars will be one less thing for parents to worry about when their kids are at university.
Now for contraception, binge drinking, depression, lack of money, eating healthily.......