From Student Idea Acorns Grow Mighty Oak Projects.

ARE YOU A STUDENT WITH A GREAT IDEA?
The Autocar-Courland Next Generation Award
Run in association with the Society of Motor Manufacturers and Traders, Autocar and Courland International, and sponsored by Jaguar Land Rover, McLaren Automotive, Peugeot, Skoda and Toyota GB, the Autocar-Courland Next Generation Award is calling for entries to their 2013 competition.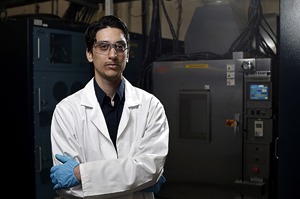 Generally regarded as the premier automotive industry competition of its type, the competition offers so much more than the £7,500 cash prize; in fact, it is the ubiquitous 'prize that money could not buy.' As well as the money, the winner of the 2013 competition will also be the recipient of a work experience package comprising one month at each of the contest sponsors – Jaguar Land Rover, McLaren Automotive, Peugeot, Skoda and Toyota – which is, in not only the current work climate but any climate anytime anywhere, pretty near invaluable.
To enter the competition, students need to answer in 500 words a brief set by Autocar editor-in-chief Steve Cropley that is:  Describe, in no more than 500 words, an idea, innovation or change to corporate policy that would improve the UK automotive business. The idea could work in any area of the automotive business – from concept through to the sales showroom and aftermarket.
Once answered, the entry needs to be submitted by 2 September 2013 via the Autocar-Courland Next Generation Award website at autocar.co.uk/nextgenerationaward
Anyone can enter – from engineering, marketing and communications students to design and media – and the panel will especially be looking for originality in the entries as well as viability as students who get through to the next round will be expected to show how their idea would work and the benefits it could offer.
That next round will consist of the six best entries attending a mentoring session with one of the assigned judges from the 2013 sponsor companies, followed by a final JUDGEMENT DAY at the home of Autocar at Teddington Studios, with a presentation to a panel of leading industry executives.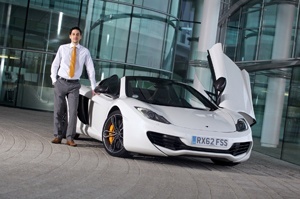 The Super Six will be narrowed down to a Final Three who will be invited to the Society of Motor Manufacturers and Traders' annual dinner on 26 November, where the winner will be announced.
Autocar editor-in-chief Steve Cropley said: "The automotive sector is one of the most inspirational, innovative and dynamic sectors to work in, and as with any industry it needs young people. I urge all students to get their thinking caps on and send in their ideas – they have got to be in it to win it – and why would they not want to?"
Last year's winner was 25 year-old Roberto Antonio Pace from Kingston University, whose 'Cylindrical Brake System' idea saw the judges dub it 'the third-generation brake system, after drums and discs', and now Roberto is more than half-way through his work experience prize, having completed one month each at McLaren, Toyota, Jaguar Land Rover and is now working with Peugeot in Paris and Coventry.  He has still one month to complete at Skoda before spending some time with Autocar.
"I am absolutely having the time of my life," he said. "I'm certainly in the midst of a fast-track vertical learning curve, the industry is so exhilarating and inspiring and it has been so interesting seeing how different elements of the business work.  It's definitely where I'd like my career to be."
Roberto's work-experience bosses have been as impressed with Roberto as he was with them.
"We've seen some really high-calibre candidates coming through the Autocar-Courland Next Generation scheme," says Ben Gulliver, function group manager (chassis) at McLaren Automotive. "That certainly goes for Roberto. He's been outstanding from day one, showing a real passion for chassis design and has been working as a real chassis engineer during his time with us."
Toyota GB's director of human resources, corporate planning and corporate social responsibility, Francesco Mereu, said: "Roberto worked on a real-life project that involved analysing how competitors are selling their cars through customisation and how they guide customers through the endless choices that are available. Engagement is an important part of learning and we want Next Generation winners to benefit from their time here."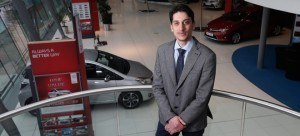 Technical Specialist for hybrid modelling and simulation at Jaguar Land Rover, Peter Burchill (Roberto's mentor during his time there) was just as effusive in his praise: "We want our employees to develop into future leaders. Accommodating people like Roberto brings the best out of our own people and gives them that ability to lead. Creatively questioning the norm is working for us. The ability to say 'why not' is what interests us about Roberto. I've asked him to present the braking idea that won him the NextGen award to our engineering management team."
Roberto hasn't been the only winner of the award as it has been going since 2009, and previous winners Mohsin Basharmal (2009: Integration of Piezoelectricity), Hari Meyyappan (2010: Hybrid Electric Two Wheeler) and Oliver Brunt (2011: Social Heads Up Display) have all benefited from the work experiences – as have the firms that they spent time at. As Roberto himself says: "I really do encourage all students to enter the competition, the whole process was so very valuable and I made some great industry contacts in the early stages of the contest.  Winning really was the icing on the cake."
That website again: www.autocar.co.uk/nextgenerationaward
THINGS TO REMEMBER:
The concept presented must be an original idea, ideally something that is new or that builds on existing ideas that may demonstrate lateral thinking, creativity and "thinking outside the box", bringing new approaches to old problems.
The winner must also be able to communicate their idea in a clear manner, both verbally and via their written application (use of diagrams is encouraged). "We are looking for individuals who are able to simplify complex problems, who can be concise and who are able to inspire their audience. Accuracy and clarity are key."