Top Gear Hovervan - Now At Beaulieu!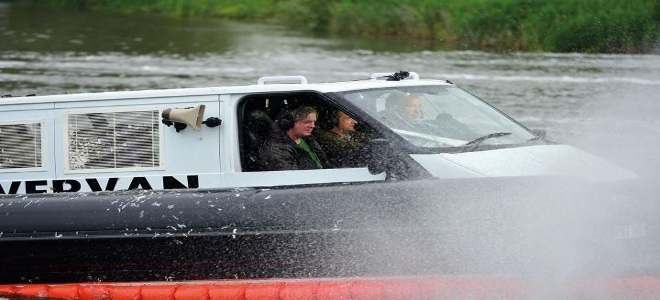 It's A Van That Hovers – It's The Hovervan
The gathered freaks, mutants and misfits interred within the World of Top Gear exhibition at Beaulieu's National Motor Museum are about to initiate a new "creation". If they like what they see, the chantings of "we accept them, one of us" will drone on endlessly into the night.
Yes, the 20th series of Top Gear has, as per, been filled with all manner of hilarious challenges which have allowed for our three hilarious presenters – Jeremy Clarkson, James May and Richard Hammond – to get up to all manner of ever-so-carefully-scripted japes.
With either a standard tut at the unpredictable nature of British summertime or an uncharacteristic acknowledgement of man's involvement in climate change, with the enjoyment of the hot weather came a realisation that a torrential flood is probably just around the corner. From this logic sprang the Hovervan, an amphibious vehicle capable of taking waterlogged city streets in its stride. The boys tested their Hovervan by riding it down a river.
The Top Gear mk2 Hovervan
The mk1 Hovervan proved to be only half amphibious. Driving around the town of Penistone it proved its mettle as a van, but proved unworthy of the "hover" prefix when it sank the moment it touched water.
The mk2 Hovervan deployed bigger engines, larger skirts and additional floatation devices to glide gracefully to victory. The Top Gear team were obviously very pleased. "It is, quite simply, a work of genius," reads a statement. "Apart from being noisy - and dangerous - and thirsty - and disruptive - and destructive - and uncontrollable - and expensive. Apart from those things, it's brilliant."
I'm inclined to agree. I've always had a soft spot for amphibious vehicles. That this one hovers is a most positive boon – the icing on the cake. You could, in fact, say that the Top Gear mk2 Hovervan really floats my boat.
Hey, I can make painful jokes about cars too! Maybe I should be on Top Gear.
The World of Top Gear
The mk2 Hovervan joins a fascinating collection of misfit motors at Beaulieu's World of Top Gear. From this 20th series alone, alongside the mk2 Hovervan you can also see the Morris Ambassador Hindustan taxi, recently crowned the world's best taxi.
Then you can take a stroll through the "Enormodrome", a huge exhibit that recreated the slightly-clammy feel of the Top Gear studio through incorporating such features from the programme as the Cool Wall and the Celebrity Lap Times board (which is frequently updated to match that from the show).
But that's not all! There's loads to see at Beaulieu. Beyond the World of Top Gear, there's also the National Motor Museum and, for a limited time only, the almighty BOND IN MOTION exhibit – the largest gathering of James Bond cars ever assembled.
And if you get bored of cars – which, you never know, you might – you can also take in the stunning Palace House and Beaulieu Abbey, both of which are most likely haunted.
Beaulieu if open everyday from 10am. The only day it closes is Christmas Day. So unless you're currently carving a turkey or a nut roast, get yerself to Beaulieu for some Top Gear hijinks!