Volkswagen e-up! Launched Today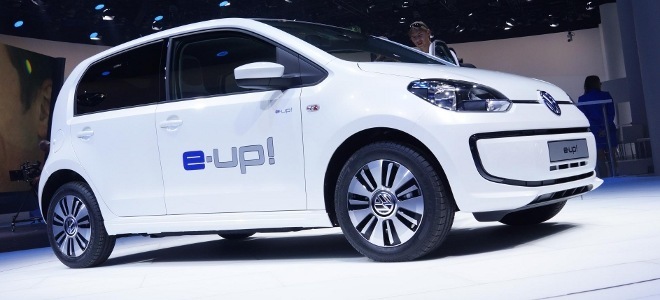 Plug-in Baby
It might have a name despised by automatic formatting software that sounds like a Yorkshire greeting, but the Volkswagen e-up! is a most appealing fully-electric vehicle. Today it goes on-sale in the UK, with initial deliveries expected at the end of January 2014.
The five-door Volkswagen e-up! is based on the successful, multi-award winning up! city car. It's available in one high-spec trim level, offers zero emissions, a maximum range of 93 miles and can be fully charge in less than nine hours using a standard household electrical socket.
Impressive. Most impressive.
The Volkswagen e-up! Facts and Figures
The Volkswagen e-up! is fitted with an AC electric motor which produces 82PS and 210Nm torque. Its range varies depending on your driving style, the charge level and such ambient conditions as temperature and precipitation. However, in optimum positions, you can expect to achieve 93 miles on a full charge.
The Volkswagen e-up! allows you to choose from three different driving modes. On top of the standard mode is Eco and Eco+, both of which serve to extend your range through diminishing the drain on the car's battery. Eco reduces the peak power from 60kW to 50kW, as well as modifying the throttle response and curtailing the output of of the air conditioning. Eco+ cuts things even further, limiting the maximum power to 40kW, further modifying the throttle response and outright disabling the air conditioning.
You can also boost the range through choosing from five regenerative braking modes: D, D1, D2, D3 and B, each of which provides an increased level of brake energy recuperation when the throttle pedal is lifted.
Volkswagen e-up! Style
One of the most striking and endearing things about the original Volkswagen up! was the unique and unmistakable sense of style. This has been extended to the Volkswagen e-up!, which announces its presence using badges on the front wings and boot, distinctive C-shaped LED daytime running lights and 15" "Tezzle" alloy wheels.
On the inside, the bespoke upholstery looks most fetching when edged in blue, whilst the leather steering wheel, gearstick and handbrake are similarly enhanced with blue stitching, creating a subtle atmosphere of calm and cool.
In terms of features and equipment, you get everything from the range-topping petrol High up! model, and more. That means that to the already impressive array of heated front seats, cruise control and infotainment systems, you get a heated windscreen, a DAB digital radio, the City Emergency Braking system, rear parking sensors and electronic climate control.
The infotainment system, dubbed the Maps and More device, has also been upgraded to display such information as you'll want to know on your zero-emission jaunts, including a charging point location finger, range mapping and vehicle charging management functions.
To all intents and purposes, the Volkswagen e-up! proves that electric motoring can be smart, cool, practical and comfortable. Not bad. Not bad at all.