The New Volkswagen e-up! It's Going to be Reet Good!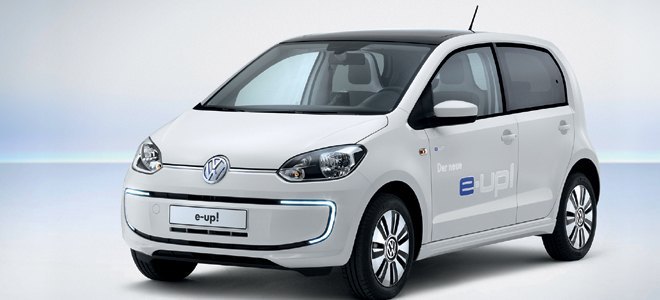 It's taken time, but Volkswagen have finally produced their first fully electric production vehicle: the new e-up!.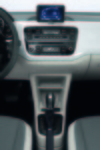 Volkswagen have aimed the e-up! with its electric drive and four seats, at those who would need something for daily use in the city, commuters or as a second car. Rechargeable to 80% in a mere 30 minutes, VW's new electric wonder can travel 150km with no problems, and all pretty much in silence.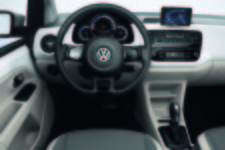 The e-up! is powered by an electric motor with 60 kW / 82 PS peak power and a maximum torque of 210 Newton metres right from the start, and with the lithium-ion battery in the underfloor area storing up to 18.7 Kilowatt-hours (kWh), that's the 150 km on a single charge at a top speed of 135 km/h with a 0-100km/h in 14 seconds.
The charging port for the e-up! is hidden behind the 'fuel filling flap', using the Combined Charging System (CCS) if purchased as an option, and supports both DC and AC charging. This means that it is so much easier for drivers to charge their cars at most charging stations – not matter what power sources or charging rates they offer.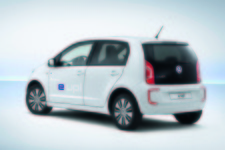 Being a Volkswagen, there is no real surprise in telling you that the e-up! is subtly stylish and of the very highest quality, sporting LED daytime running lights in the front bumper, machine-polished 15-inch alloy wheels, Volkswagen emblems with blue backgrounds and an e-up! logo at the rear.
Inside there are light-grey seat covers with blue top-stitched seams along with special leather and chrome accents – all designed to ensure that when you drive what is a futuristic car, you actually FEEL like you are driving a futuristic car; and one that is a fully-fledged urban electric car.
No doubt that we will be learning, reading and wanting more once the e-up! makes its debut at the International Auto Show in Frankfurt with the first deliveries to the UK early next year.