Volkswagen Get Ready To Rock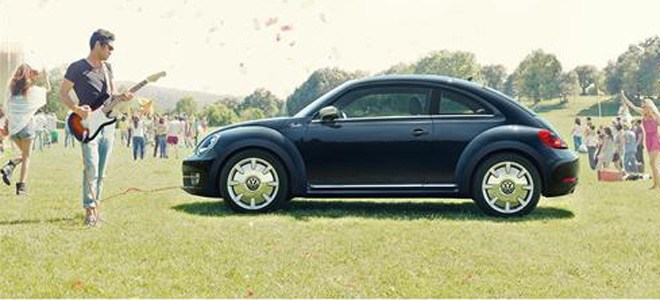 BEETLE FENDER ROCKS INTO TOWN ALONG WITH THE NEW SCIROCCO GTS
THE BEETLE FENDER
Fender is a name synonymous with rock music, and the VW Beetle is a name synonymous with style; so when the two come together you are looking at one seriously stylish bit of rock.
Ladies and Gentlemen; please put your hands together, or above your heads and make that funny looking sign with two fingers sticking out either side of a clenched fist, as we bring you, live on stage; the Volkswagen Beetle Fender limited edition. (Crowd goes wild!)
Available, like Ford's famous first car, the cover of Spinal Tap's infamous album Smell The Glove and  JZ's album, it is only available in BLACK (a lustrous Deep Pearl to be absolutely precise), and comes with an efficient yet powerful 2.0-litre TDI 140 PS engine connected to either a six-speed manual or DSG gearbox.
Outside you can see 18-inch 'Discus' alloy wheels, and to give you that bit of kudos that you know that you deserve there is a Fender badge on each front wing.
Step inside (love) the Beetle Fender and you enter a world of guitar magic – whether performing solo or letting the rhythm take control. Each model comes with a dash panel in vibrant 'Sunburst' wood – and you don't need me to tell you that that is the Fender's signature right there in front of you. And it is, as the name says on the front, a Beetle – so you gets what you pays for there; and that's a lot.
You want to keep on rocking? Every special-edition Beetle Fender car is fitted with the incredible 400-Watt Fender sound system, complete with boot-mounted subwoofer, illuminated front speaker mountings, and a volume dial that sadly only goes up to 10 – but you could play with t a bit and use a marker to put an 11 on it if you really wanted to! The audio unit (RCD 510) comes with full-colour touchscreen and MDI multi-device interface, and then VW throe in (not literally; they are very careful when they put it all together) 2Zone climate control, front and rear parking sensors, bi-xenon headlights and bespoke 'Cheyenne' cloth seats with leather-look side bolsters.
Orders opened on 2 January but you will need to get your speed metal skates on because production is limited. (The clue is in the phrase 'limited-edition'.)
THE SCIROCCO GTS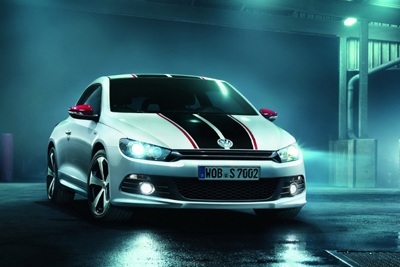 If you really want me to continue in this rock'n'roll vein, then let me bring onto the stage, the White Stripes that feature on the new Scirocco GTS model, also available from 2 January.
If driving a Scirocco isn't eye-catching enough for you, then those broad stripes running the length of the vehicle from bonnet to tailgate, the red (or white) coloured door mirror caps (depending on body colour), bespoke 18-inch 'Thunder' alloy wheels and a panoramic sunroof should help you to turn heads, helping to keep you top of the popularity charts.
You want a choice of colours? You got it! Candy White (with black stripes and red door mirrors), Salsa Red (black stripes, white mirrors), Deep Black Pearl (white stripes, red mirrors) and Indium Grey (black stripes, red mirrors) are your choices for the outside, whilst inside there is the already comprehensive specification of the R-Line model, but the Scirocco GTS also comes with black 'Vienna' leather upholstery with red stitching and an embroidered GTS logo, a golf ball-style gearknob, bespoke multifunction steering wheel with GTS logo, floor mats with red piping, GTS sill plates, Piano Black and Black Peak decorative facia inserts and Piano Black door handles.
They really are spoiling you, aren't they? And what do they do for an encore? A loud and particularly impressive RNS 315 satellite navigation, Adaptive Chassis Control, 2Zone Climate Control, MDI multi-device interface and Bluetooth telephone connection.
All in all, enough to send anyone home happy – but this time in complete comfort, with a grin on your face that would replace the sun and ears ringing from endorsements.
Volkswagen. Rocking your 2013 world.