Volvo Unveils Latest Safety Tech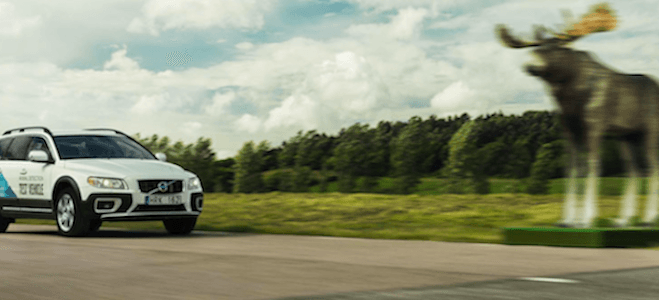 We often forget how risky driving can be. Most of us have either been, or know someone who has been, in a serious car accident. In order to commemorate the importance of road safety, we at Nationwide Vehicle Contracts are highlighting the importance of National Road Victims Month by exploring Volvo's latest attempts at dealing with safety problems. Having developed a flurry of new technological innovations, lets see what they have created to stop fatal accidents before they happen.
Volvo Car Group has recently released a series of user-friendly safety and support technology under the umbrella of Scalable Product Architecture. According to the company, the system is designed to work on a series of different levels, each offering Volvo drivers an unprecedented level of safety and comfort.
The first of these incredible features has been dubbed the Pedestrian Detection in darkness feature. According to STRADA (Swedish Traffic Accident Data Acquisition) some 58% of pedestrian fatalities occur in the darkness. As a result of this, Volvo developed technology that makes detection and auto brake technology work more effectively, detecting and auto braking for other vehicles, pedestrians as well as cyclists.
Volvo has also released a key Animal Detection feature as incidents involving wild animals have been a great problem for many people living in the country. The Collision mitigation system detects and automatically brakes for animals in both daytime and nighttime conditions. The technology is designed to both help the driver avoid accident as well as reduce speed of impact if the accident is inevitable, thus increasing the chance of survival.
The company has also developed an extraordinary road edge and barrier detection with steer assist system. According to Volvo, "Studies show that many accidents take place in uncritical traffic situations and good weather conditions due to driver distraction, drowsiness or illness." As a result, the company has developed a system that helps drivers avoid accidents by detecting road edge and barriers, notifying the driver of danger before the car leaves the road.
Beyond this, the Scalable Product Architecture implements a long list of features including: Adaptive Cruise Control with steer assist, Car 2 Car Communication, Green Light Optimum Speed Advisory, Weather and road condition Information, Emergency Vehicle Warning, Emergency Brake Warning, Slow or Broken Down Vehicle Warning, Road Works Warning, Traffic Jam Ahead Warning, In-Vehicle Signage, Motorcycle Approaching Indication, Red Light Violation Warning, Autonomous Parking. Each of these extraordinary features promises to make Volvo an unbreakable car, setting the company apart from the rest.
Thomas Broberg, Senior Safety Advisor Volvo Car Group, recently said: "Our aim is to gain leadership in the field of autonomous driving by moving beyond concepts and actually deliver pioneering technologies that will reach the customers. Now, we are taking the first steps towards our vision by introducing the first Volvo's with autonomous steering to avoid accidents and make driving more comfortable."
Many of these features will be available in the upcoming  Volvo XC90 which the company hopes to reveal at the end of 2014. If all goes as planned, Volvo hopes to eradicate accidents entirely, making car rides safer than ever.