What VW Will Be Doing at the Goodwood Festival of Speed?
Next weekend (12th-14th July) not only sees my grandson's 4th birthday (If you're interested, any super hero figures will do) but also the event dubbed 'the largest motoring garden party in the world' – the 20th Goodwood Festival of Speed; chock full of fast cars and new and inventive vehicles.
It's one of the places to be seen at in the UK for car manufacturers and Volkswagen, this year celebrating 60 years of importing vehicles to the UK, aren't going to miss out on showing off some of their current and future models to the UK public.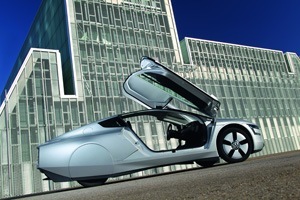 First up (quite literally 'up', as it will be taking part in the famous hill climb) is the XL1, currently in limited production. Volkswagen claim it is "the world's most fuel-efficient production vehicle, with an official combined fuel consumption figure of 313 mpg and CO2 emissions of 21 g/km", and not only looks like a car of the future with its scissor-like opening doors but its carbon-fibre reinforced polymer body and two-cylinder 800 cc diesel engine with an electric motor drivetrain makes it one as well.
Right next to the XL1 on the Volkswagen stand we find a faster machine in the shape of the Polo WRC car that is currently tearing up the World Rally Championship by storm, and hopes to blow all competition away up Goodwood's hill too!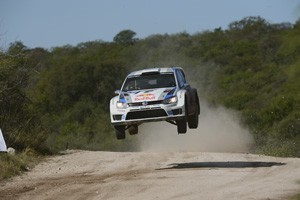 Drivers of the two cars are varied, but certainly booked into the cars are Formula One legend and six-times Le Mans winner Jacky Ickx, and Dr. Ulrich Hackenberg, outgoing Member of the Board of Management of the Volkswagen brand responsible for development.
Obviously these motors are a bit pie-in-the-sky for your average punter who visits the Volkswagen showrooms in the hope of the car of their dreams, so VW are using the Festival of Speed to show off a couple of newer versions of some old favourites.
On the Volkswagen stand visitors will find themselves face-to-bumper with the exhilarating new Golf GTI and the more frugal Golf GTD.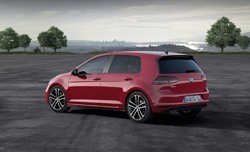 GTI is a VW icon, and has been since it first entered the public gaze 37 years ago with its performance, sharp design and practicality entertaining its owners like no other car can. This latest GTI comes with a 2.0-litre turbocharged petrol engine that creates acceleration from 0-62mph in 6.4 seconds up to 155mph top speed.
And the GTD, while not as spunky in the eyes of the VW beholder, still packs a punch with a 7.5 second acceleration to 62mph and 142mph top speed, but this time with an ecological edge of 67.3 mpg while emitting just 109 g/km of CO2.
So that's the Volkswagen stand, and there is so much more at the Goodwood Festival of Speed. For more information and to purchase tickets, visit www.goodwood.co.uk/festival-of-speed.