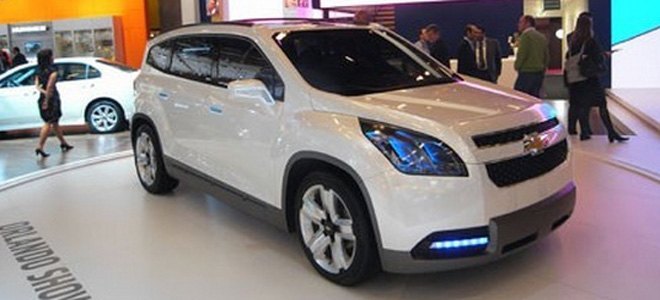 The Chevrolet Orlando combines seven-seat flexibility with a distinctively modern design.
Nationwide Vehicle Contracts is pleased to announce great monthly savings of as much as £34, with rates now starting at just £257.95 + VAT...
Available in a range of attractive colours, the Chevrolet Orlando makes a bold statement and stands out against competitors in the car park.
Inside, the Orlando is every bit as stylish as on the outside. A Corvette-inspired dual-cockpit is featured as a centrepiece; whilst slick panelling throughout contributes to a feel of refinement.
Whether you need to load your seven-seater with friends/ luggage/ pets or golf clubs, the Orlando boasts a great level of versatility which makes it possible. You can configure your Orlando to meet your needs – even if those needs change on a daily basis.
Every model in the line up is built around a comprehensive safety system and features a tough, reinforced safety cage. Should an impact occur, this 'long cadle' high energy absorbing system works effectively to safeguard occupants.
One of our best deals is on the Chevrolet Orlando 1.8 LT – now available to lease from only £269.95 + VAT!
Driven by a powerful 1.8 litre petrol, this model returns respectable fuel economy and relatively low emissions for a vehicle of this class.
The 1.8 LT is well equipped and features the following items of specification as standard:
Cruise control;

Rear parking sensor;

Radio/ single CD player;

iPod/ USB/ MP3 connection;

Auto air recirculation;

Seven seats;

16" 5 split spoke alloy wheels.
To find out more about our great Chevrolet car leasing deals, simply follow the links above or call us at Nationwide on: 0844 482 9595...
Prices are based on a 4 year contract + exclude VAT, initial payment and processing fee (£150+VAT). Terms and conditions apply. Limited stock available. 
Image taken from: http://www.flickr.com/photos/27620885@N02/2920770737/