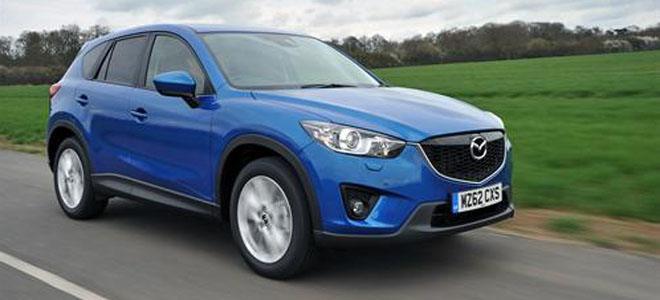 The CX-5 is Mazda's addition to a competitive crossover market. Combining excellent performance credentials with stylish aesthetics and an enjoyable drive, it is the perfect choice for those seeking a car that is big on practicality and small on costs.
Nationwide are pleased to announce great monthly savings of up to £24, bringing lease rates for the CX-5 down as low as £266.95 + VAT...
Built on an innovative 'SKYACTIV' platform, Mazda have succeeded in creating a car that is lower in weight; better in fuel economy and friendlier to the environment. Whichever model you opt for, the CX-5 contributes to impressively low carbon dioxide emissions with little compromise on performance.
A ride in the CX-5 can be enjoyed in comfort thanks to the incorporation of a supple suspension system. Space within the cabin falls far from short too. Even where passenger capacity meets its limits, adults are comfortably accommodated in the back and luggage capacity is generous. A maximum load space of 1,620 litres is achievable where the three rear seats are folded flat.
Supporting claims that the Mazda CX-5 is an ideal family car; its safety record is excellent. Taking into consideration a maximum Euro NCAP rating of five stars, you can drive assured that should an impact occur, an optimum level of protection is provided to you and your passengers. The firm has a strong reputation when it comes to reliability, and the CX-5 has thus far proven itself to be no exception.
One of our best Mazda CX-5 leasing deals is on the 2.2d SE-L, available from just £273.95 + VAT a month...
Driven by a powerful 2.2 litre diesel unit, this model achieves the benchmark 0-62mph sprint in as little as 9.2 seconds. Combined with a snappy 6 speed manual gearbox, this engine contributes to responsive acceleration.
The Mazda CX-5 2.2d SE-L features a wealth of standard equipment, including:
Bluetooth connectivity with voice control;

Cruise control;

Front and rear parking sensors;

Radio/CD;

Dual zone climate control;

17" alloy wheels.
To take advantage of our amazing Mazda car leasing deals, or simply to find out more, follow the links above or call us at Nationwide on: 0844 482 9595...
Terms and conditions apply. Limited stock available. Prices based on a 4 year contract and exclude VAT, initial payment and processing fee.