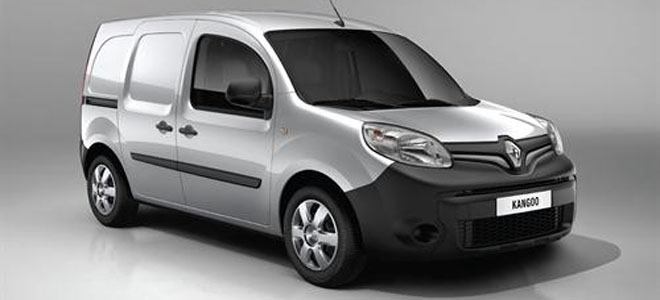 Nationwide Vehicle Contracts are pleased to announce that the updated Renault Kangoo is now available on our website – with rates starting from only £235.95 + VAT...
The new Renault Kangoo offers a practical working environment with little compromise on comfort. The cabins are user friendly – roomy and logically laid out. Individually bolstered seats provide ample support and plenty of space, while a dash-mounted gear lever ensures easy gear changes.
Each model in the new Kangoo range boasts high levels of equipment. Alongside ABS, EBD and Renault AntI-Intruder Device, a full steel bulkhead is featured as standard. This securely separates the loading area from the driver's cab and provides safer conditions for drivers.
Whether your business needs are big or small, the Kangoo is sure to meet them. Its length of 4213mm frees up a maximum load volume 4.6m3 with a payload of 800kg. The width between the wheel arches is generous and allows a pallet to be swallowed up. A slide loading door makes for easy work!
A model we think is worth snapping up, is the Renault Kangoo ML19dCi 90 (Start Stop), available to lease from just £240.95 + VAT...
This model is driven by an efficient diesel engine and promises CO2 emissions that are amongst the lowest on the market. It promises to keep your business costs minimal, returning up to 57.6 MPG!
To find out more about our great car leasing rates, simply follow the links above or call us at Nationwide on 0844 482 9595...
Prices based on a 4 year contract + exclude VAT, initial payment and processing fee (£150+VAT). Terms and conditions apply. Limited stock available.