Aston Martin Vantage Coupe Car Leasing & Contract Hire

Your search queries return no results
Why Lease The Vantage Coupe?
The Aston Martin Vantage is a 3-door coupé that can be neatly summed up with but one word: Incredible. Its sublime exterior and refined interior must be seen to be believed, and you'll have a similar task in believing the power and performance delivered by the V8 and V12 engines. The Aston Martin Vantage is beautiful beyond belief. As cars go, it's truly incredible.
Nationwide Vehicle Contracts have some stunning leasing offers on the Aston Martin Vantage at competitive UK car lease prices.
Aston Martin Vantage Coupe Key Features
• Beautifully streamlined sport coupé design featuring extruded bonded aluminium VH body structure;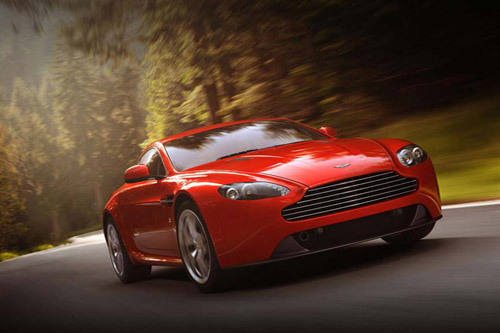 • Full-grain leather interior as standard;
• Advanced brake and suspension technology for an unbeatably smooth ride;
• Integrated and intuitive road-holding technology for responsive and agile handling;
• Choice of V8 and V12 engines
Power & Performance
The Aston Martin Vantage can be fitted with either a V8 or a V12 engine. The V8 has a maximum output of 426ps at 7300RPM, a top speed of 180mph and is capable of accelerating from 0-60mph in just 4.7 seconds. But if that sounds impressive, the performance offered by the V12 is nothing short of awe-inspiring: 517ps, a top speed of 190mph and able to achieve the same acceleration in 4.2 seconds.
Transmission is six-speed manual as standard, but the V8 can also be fitted with a Sportshift II seven-speed automatic gearbox. Both engines, however, are enhanced by advanced power-assisted steering, suspension and brake technology.
Such features as Dynamic Stability Control (DSC); an Anti-Lock Braking System (ABS), Electronic Brakeforce Distribution (EBD) and Emergency Brake Assist (EBA) are standard to both engines. They not only serve to enhance your safety, but they also result in more agile and responsive handling.
The V8 engine is further enhanced by a Hydraulic Brake Assist (HBA); Positive Torque Control (PTC) and Hill Start Assist (HSA). So no matter what engine you choose, you can look forward to the ultimate in high-end sporty performance.
Comfort & Luxury
Refined elegance and sophistication is found in every inch of the Aston Martin Vantage. The interior is full-grain leather as standard, but the V12 model is also available in alcantara. The sports steering wheel is leather for the V8 and alcantara-trimmed in the V12. Both models feature a luxurious piano black facia trim with a graphite centre console finish and surround.
The interior features differ slightly depending on the engine, but standard to both models are electrically adjustable sports seats; organic electroluminiscent displays; a trip computer; rear parking sensors and a tyre pressure monitoring system.
Leasing vs Buying
When you lease an Aston Martin Vantage from Nationwide Vehicle Contracts, you can enjoy such additional benefits as fixed monthly payments, a lower initial deposit, flexible contract duration and mileage terms and inclusive road tax and breakdown recovery.