BMW 6 Series Convertible Car Leasing & Contract Hire

Why Lease The 6 Series Convertible?
The BMW 6-Series Convertible is a true sports car. It is responsive and agile and never fails to deliver a refined open-top driving experience.
The BMW 6-Series convertible holds a long, low and wide stance on the road and is a real head-turner. Striking design extends to the cabin which exudes a phenomenal sense of quality and refinement. BMW have used sumptuous materials and incorporated a huge range of technology – contributing to a drive that is relaxing and effortless regardless of journey length.
Whilst some sports cars compromise on interior room, the BMW 6-Series Convertible's 2+2 configuration means that space does not fall short. What's more, it boasts a decent sized boot (350 litre when the hood is in place)...
This model incorporates a range of innovative EfficientDynamics technology, including an eight-speed semi-automatic transmission as standard. This ensures rapid and smooth gear transition every time.
BMW 6 Series Convertible: Key Features
• Highly specified – even at entry level;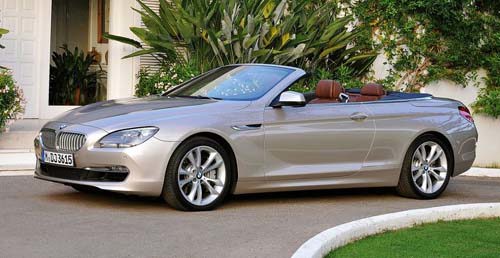 • Good choice of diesel and petrol models for dynamic performance;
• Huge list of safety equipment as standard;
• Excellent handling .
Power & Performance
If it is un-caged power that you are after, then the 650i is the best choice. Producing 407bhp with 600Nm of pulling power, this model achieves 0-62mph in just 5 seconds! If choosing the slightly less powerful (but still extremely capable) 640i, this sprint is still achievable in just 5.7 seconds!
If opting for a diesel model, it is worth noting that what you may lose in performance you will make up for in fuel economy. Reasonable running costs and minimal CO2 emissions give the 6 Series Convertible a comfortable edge over many of its rivals.
BMW boffins have done exceptionally well in producing a sports car that is agile, responsive and outstanding to drive. It is dynamic and sporty yet comfortable, thanks to a vibration-free rigid structure; innovative suspension and a Dynamic Control system as standard. Even at high speeds, this vehicle remains well composed and is a pleasure to drive.
Leasing vs Buying
Tempted by the BMW 6-Series Convertible? Leasing is a great alternative to buying a brand new car with a low initial payment, fixed monthly instalments and flexible mileage terms. Nationwide offer a huge range of vehicles at extremely competitive lease rates and provide all of our vehicles with inclusive road tax and breakdown recovery.