BMW Z4 Roadster Car Leasing & Contract Hire

Why Lease The Z4 Roadster?
The BMW Z4 is the roadster that combines strong performance, sharp handling and dynamic styling. Thanks to thoughtful design and the incorporation of a folding metal roof, the Z4 is a coupe convertible that's easy to live with every day.
Athleticism and aesthetics go hand in hand when it comes to the Z4. Its sporty nature is reflected in its sporty exterior design and it is a sure head turner wherever it goes.
Inside, the cabin is well refined and wind, tyre and road noise is kept to a minimum. Boasting a wide cabin with plenty of height too, the Z4 is the practical choice for those who want something sporty but do not want to compromise on comfort. The use of high quality and sumptuous materials gives this vehicle an upmarket feel; whilst plenty of innovative technology and ergonomically placed controls make enjoying the drive effortless.
Smooth acceleration is guaranteed regardless of whether you opt for manual or automatic transmission.
BMW Z4: Key Features
• Comprehensive safety system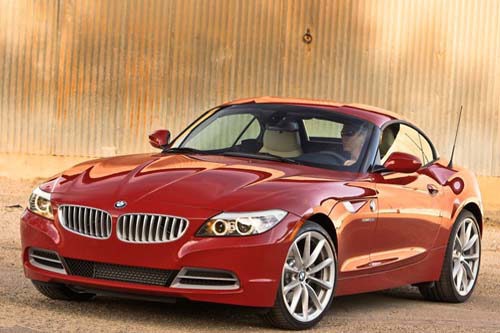 • Wide choice of petrol engines and transmissions
• Quick folding retractable hard top (20 seconds)
• Impressive yet affordable performance (0-62mph in under 6 seconds)
• Generously specified
Power & Performance
Three six cylinder petrol units make up the Z4 line up, ranging in size from 2.0 litres to 3 litres. All pack out plenty of punch and deliver impressive, efficient and economical performance.
The BMW Z4 is fun to drive and responds well when faced with open and twisting roads. Each model boasts responsive steering and minimal roll in corners. Even the most powerful models are never unpredictable – thanks to plenty of grip and electronic stability control as standard. An adaptable suspension get up means that the ride is forgiving even over rough and bumpy roads.
Leasing vs Buying
Leasing is a great alternative to buying a brand new car – with low initial payments, fixed monthly instalments and flexible contract terms. Here at Nationwide, we offer a huge range of vehicles at competitive lease rates – all of which come with inclusive road tax and breakdown recovery.