BMW M3 Saloon Car Leasing & Contract Hire

Why Lease The M3 Saloon?
The four-door BMW M3 saloon faces off against the likes of other powerful saloons such as the Audi RS4 and the Jaguar XFR, but sitting as it does at the top of the BMW 3 Series performance models, it has no problem at all standing up strong against such competition.
With a new turbocharged, 425bhp 3.0-litre six-cylinder engine replacing the old 4.0-litre V8 that has been there since launch, both power and fuel economy have seen improvement along with minor tweaks to the body design to allow even more comfort in what is, after all, a sports saloon for five passengers and plenty of luggage.
Well-equipped as standard with an all-leather interior, Sat Nav, electrically heated and adjustable seats, small sports steering wheel, front and rear parking sensors and 19" alloy wheels, the BMW M3 Saloon doesn't compromise on comfort as a dedicated performance car with adjustable settings to the steering wheel and seats enabling the driver to set themselves just as they would wish.
BMW M3 Saloon Key Features
• Turbocharged, 425bhp 3.0-litre six-cylinder engine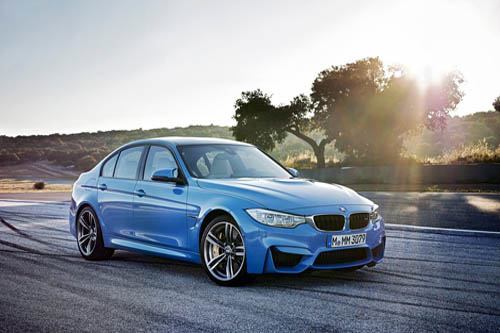 • Excellent standard specification including an all-leather interior
• Adjustable settings to the steering wheel and seats to ensure personal driving comfort
• 35% more efficiency than before with regenerative braking and a stop-start system
• Twin-clutch automatic gearbox
Power & Performance
With both manual and automatic gearboxes available, including BMW's twin-clutch automatic gearbox, efficiency has been improved by 35% over its predecessor, allowing fuel economy of 34mpg to be reached thanks to standard fuel-saving technology such as regenerative braking and a stop-start system.
The new engine is flexible and works with the twin-clutch automatic gearbox to power the BMW M3 Saloon from 0-62mph in just 4.1 seconds , controlled electronically to ensure safe driving. And if sporty driving isn't required, comfort mode can be activated to allow BMW 3 Series smooth and relaxing driving to take over.
Leasing vs Buying
Here at Nationwide, we offer a huge range of vehicles at competitive lease rates – all of which come with inclusive road tax, free UK mainland delivery and breakdown recovery. With low initial payments, fixed monthly instalments and flexible contract terms, you'll find that leasing is a so much more than a great alternative to buying a brand new car.