BMW M4 Convertible Car Leasing & Contract Hire

Why Lease The M4 Convertible?
Replacing the semi-legendary BMW M3 Convertible, the M4 Convertible has not only got that 'burden' to contend with but also the fact that its closest competitor is the Audi RS 5 Cabriolet - and with these it copes magnificently.
Carrying the same downsized 3.0-litre twin-turbo petrol engine that you find in the BMW M4 Coupe, the BMW M4 Convertible is an extremely fast four-seater convertible that handles like a dream while the driver enjoys the ride in lush comfort.
Highly specified with such equipment as a tablet-style 6.5" display screen, BMW's iDrive infotainment system, leather upholstery and a sporty three-spoke multifunction steering wheel, the fully retractable hardtop for the M4 Convertible is power-managed and lowered in around 20 seconds to its storage space in the boot.
The car is available with either a six-speed manual or a seven-speed dual-clutch automatic transmission which accelerates the M4 from 0-62mph in 4.4 seconds and 4.2 seconds respectively, with safety features that can be enhanced with a Driver Assistance Plus package.
BMW M4 Convertible Key Features
• 0-62mph in under 4.5 seconds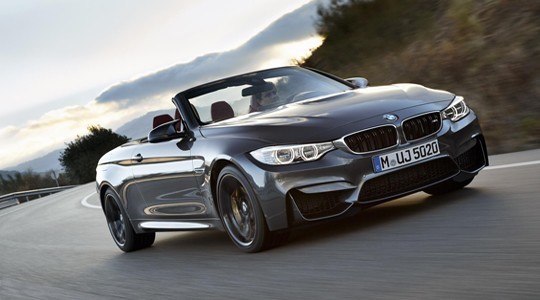 • Luxuriously specified
• Fully retractable hardtop roof
• Extensive comfort and safety for the driver
• High-performance and handling at your fingertips
Power & Performance
Making full use of the same 3.0-litre twin-turbo six-cylinder engine that is found in both the BMW M4 coupe and BMW M3 saloon, the BMW M4 Convertible produces 425bhp as it speeds to 62mph from start in under 4.5 seconds.

Fuel economy isn't the best at just 17 mpg in the city and 26 mpg on the open road, but that's to be expected with such speed and power at the driver's fingertips.
But you can rest assured that the drive will make up for this small 'deficiency'.
Leasing vs Buying
Leasing is a great alternative to buying a brand new car – with leasing with Nationwide gives you so much more than the peace of mind you get knowing that you are getting finance through the UK's largest vehicle lease providers. With low initial payments, fixed monthly instalments, flexible contract terms, inclusive road tax and breakdown recovery amongst the benefits, the only choice to make is which of the large choice of cars you will choose.
Top