BMW M4 Coupe Car Leasing & Contract Hire

Why Lease The M4 Coupe?
The BMW M4 Coupe is actually the new name for the Coupe version of BMW's iconic M3, and therefore already has history and a great reputation; a reputation that is enhanced by the fact that this two-door car is both faster and more economical than the old M3.
Up against its nearest competitor, the Lexus RC F, the BMW M4 Coupe performs well with a split personality that works well on both motorway and the sharp and twisty back roads of Great Britain, with the only real downfall a lack of space behind the driver and passenger that will fit, in relative comfort, one adult or two children of varying ages.
(But that's the 'beauty' of two door coupe cars isn't it?)
With all the joys of the BMW M4 inherent in this car too, the engine is turbocharged, has a top speed of 155mph, and is as easy to drive in town as it is on the wide and open road.
BMW M4 Coupe Key Features
• Up-to-the-date technology to ensure best fuel economy, including a stop/start system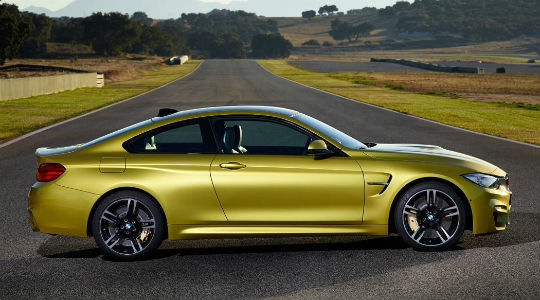 • Blistering performance and top notch steering response
• A turbocharged 3.0-litre six-cylinder petrol engine
• 0-62mph in just 4.1 seconds
• At home on motorways and in the city
Power & Performance
Powered by a turbocharged 3.0-litre six-cylinder petrol engine (as opposed to the M3 Coupe's 4.0-litre V8 ), the BMW M3 Coupe takes just 4.1 seconds to accelerate from standing to 62mph up to a top speed of 155mph.
Even with all his power, the official fuel consumption figure is acceptable at 32.1mpg (with CO2 emissions at 204g/km) - more economical than a lot of cars that could be considered a viable rival to the M4 Coupe - and the technology available as standard helps with the drive; technology such as Stop/Start to rest the engine when stationary and an automatic gear selection indicator.
Lighter than before and with available steering, suspension and engine response adjustments, there is the option of blistering performance as well as urban cruiser with the BMW M4 Coupe.
Leasing vs Buying
Leasing is a great alternative to buying a brand new car – with low initial payments, fixed monthly instalments and flexible contract terms. Here at Nationwide, we offer a huge range of vehicles at competitive lease rates – all of which come with inclusive road tax and breakdown recovery.