Citroen C3 Picasso Car Leasing & Contract Hire

Your search queries return no results
Why Lease The C3 Picasso?
The Citroen C3 Picasso is the stylish 5-door MPV that's designed to combine the rugged capability of an SUV with the reliable comfort and flexibility of a people carrier. It's got up to 1,500 litres of storage space, yet it's compact and manoeuvrable enough to work as an agile city car. A stunningly versatile thing of beauty, it's no wonder the Citroen C3 Picasso is so loved by so many.
Nationwide Vehicle Contracts have some excellent leasing offers on the Citroen C3 Picasso at competitive UK car lease prices.
Citroen C3 Picasso Key Features
• SUV capability combined with people carrier practicality;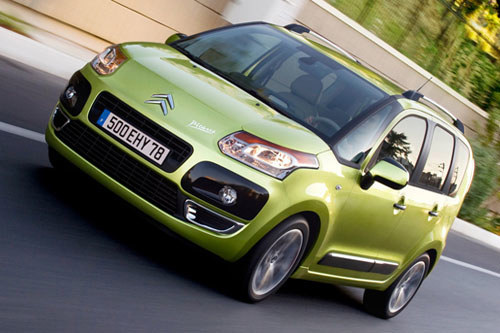 • Spacious and comfortable interior; bold and compact exterior;
• Up to 1,500 litres storage space;
• Choice of trims and engines;
• Three-part panoramic windscreen and optional glazed panoramic sunroof


Power & Performance
The Citroen C3 Picasso range includes three trims – VT,VTR+ and Exclusive – with the choice of engine and transmission varying depending on the model. All told, though, there's a choice of two petrol and two turbo diesel engines.
The petrol options include the VTI 95 and the VTI 120. The VTI 95 is available with 5-speed manual transmission and has a top speed of 111mph. The VTI 120, on the other hand, has a top speed of 117mph and is available with a choice of 5-Speed Manual or EGS6 automatic transmission.
The diesel range includes the powerful HDI 110 and the frugal HDI 90. The HDI 110 is available with either six speed manual or EGS6 transmission, whilst the HDI 90 features manual transmission with a longer gear ratio. As a result, it has an impressive combined mpg of 62.2 and CO2 emissions of just 112g/km.
A Green SUV?
The Citroen C3 Picasso is the SUV with impressive green credentials. Multi-valve cylinder heads and superior fuel intake management makes for reduced fuel consumption and CO2 emissions from its petrol engines. But you'll really be stunned by the efficiency of the HDI diesel engines.
With an electronically controlled system, the air/fuel mix is optimised to drastically reduce pollution. These engines work harmoniously with a particulate filter (DPFS) – put in place to safely trap and burn any particles created by the engine.
The result is groundbreakingly low CO2 emissions and barely noticeable particulate emissions. Not bad for an SUV.
Leasing vs Buying
There are many benefits to leasing the Citroen C3 Picasso, including fixed monthly payments, a lower initial deposit, flexible contract duration, flexible mileage terms and inclusive road tax and breakdown recovery.