Why Lease The Citroen DS3?
The Citroen DS3 is the 3-door hatchback with extensive scope for customisation. Everything – from the wheels to the roof to the wing mirrors – is ripe for personalisation. This is truly a car with which you can express yourself; but you'll find wonderfully refined elegance even in its default design. And being just 3.95m long and 1.71m wide with a minuscule 10.4m turning circle, the Citroen DS3 is compact enough to function beautifully as a stylish city car.
Nationwide Vehicle Contracts have some fantastic leasing offers on the Citroen DS3 at competitive UK car lease prices.
Citroen DS3 Key Features
• A stylish city hatchback that reflects your unique personality;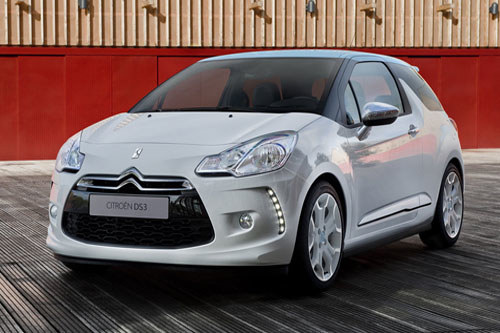 • Top Gear Car of the Year 2010;
• Spacious, versatile and sophisticated 5-seat interior;
• 285 litres storage space further boosted by 60/40 split folding rear seats;
• Choice of three petrol engines and two diesel engines


Power & Performance
The Citroen DS3 comes with a choice of five compact and efficient engines. The Turbo Diesel range includes the E-HDI 90 and the E-HDI 110 which, thanks to Airdream transmission technology, achieves ultra-low CO2 emissions of just 99g/km and is capable of up to 74.4mpg on a combined cycle.
The petrol range includes the VTI 95, the VTI 120 and the THP 155. Transmission is available in 5 or 6 speed manual and 4 speed automatic.
Petrol or diesel, these engines have been fine-tuned to achieve a smooth and responsive ride. This, combined with the low-set driver's seat, makes for a sporty and genuinely thrilling driving experience.
Comfort & Versatility
For a compact and sporty city-car, the Citroen DS3 is surprisingly versatile. Though its refined external dimensions allow for agile navigation of those narrow city streets, by no means does it follow that the interior is cramped. Indeed, beyond the ample leg and elbow room, you'll find an impressive 285 litres of boot space which is even further boosted when the 60/40 split rear seats are folded.
Your comfort is assured not only by the luxurious interior, but also by the amount of work that's gone into soundproofing the DS3. Seals on the doors keep external noises to a minimum, whilst noise and vibration from the engine is dampened to a sophisticated purr.
Leasing vs Buying
With fixed monthly payments, a lower initial deposit, flexible contract duration and mileage terms and inclusive road tax and breakdown recovery, there are many benefits to leasing the Citroen DS3.