Dacia Sandero Stepway Car Leasing & Contract Hire

Why Lease The Sandero Stepway?
Like all Dacia cars, the Sandero Stepway promises all the benefits you might expect from a high-end car at an undeniably impressive price. Specifically, The Dacia Sandero Stepway delivers the space, practicality and style of an SUV at a price more befitting of its supermini counterpart. Offering tremendous value for money, the Dacia Sandero Stepway contains such a high quality of features and equipment that you'll swear someone's made a mistake on the pricing.
Dacia Sandero Stepway Key Features
• SUV-inspired version of Sandero Supermini;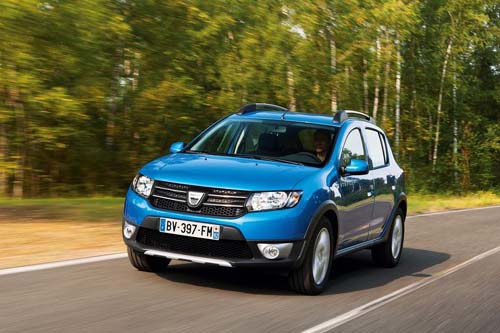 • Incredible value for money, even at higher trim levels;
• Extensive selection of advanced active safety systems;
• Integrated MEDIA NAV infotainment system;
• Choice of petrol and diesel engine
Power & Performance
With a choice of two engines, the Dacia Sandero Stepway is sure to satisfy both fans of petrol and diesel. The turbo petrol engine is a 90hp TCe that, thanks to downsizing technology, enjoys greatly reduced energy consumption for improved fuel efficiency.
The 1.5 litre 90hp dCi diesel engine draws from increased torque for better grip and acceleration. Its slight size makes for frugal fuel consumption with no compromises on performance or handling. And with CO2 emissions at 105g/km, the Dacia Sandero Stepway is not only an affordable SUV, it's also a remarkably green one.
The Dacia Sandero Stepway is more at home in the city than on rough and rugged off-road terrain, and the extensive range of advanced active safety features serve to enhance stability and control when taking corners or swerving. Included is an Anti-lock braking System (ABS) with Emergency Brake Assist (EBA), Electronic Stability Control (ESC) and cruise control with a speed limiter.
Models & Technology
The Dacia Sandero Stepway is available at two trim levels, with the range of available equipment and technology varying across the range. The entry-level Ambiance model comes with power-assisted steering, a gear shift indicator, an ECO driving mode, ASR traction control and Bluetooth connectivity.
The Lauréate model adds a chrome front grille, a leather steering wheel and gear knob, air conditioning, electrically adjustable and heated door mirrors and steering column mounted fingertip controls.
Also as standard in the Lauréate model is the MEDIA NAV infotainment system. An integrated 7" screen, it offers total intuitive control of radio, satellite navigation, USB and AUX media and connected Bluetooth devices.
Leasing vs Buying
The low-price of the Dacia Sandero Stepway will astound you, but you can make things even more convenient and affordable when you consider leasing as an alternative to buying. When you lease a Dacia Sandero Stepway from Nationwide Vehicle Contracts, expect fixed monthly payments, inclusive road tax and and breakdown recovery and a refreshingly flexible approach to contracts and mileage terms. Nationwide Vehicle Contracts have some excellent leasing offers on the Dacia Sandero Stepway at competitive UK car lease prices.