Ford Fiesta Car Leasing & Contract Hire
Top Offer
Ford Fiesta 1.0 EcoBoost 140 Zetec S Black 3dr
Initial Rental: £365.85 Excl VAT. Processing Fee: £150.00 Excl VAT.
Model
24 Month Contract
36 Month Contract
48 Month Contract
Add to Compare Tool
Quotation Terms: Prices based on contract hire or personal contract hire over 48/36/24 months.
Why Lease a Fiesta?
The 3-door, 5-seat Ford Fiesta is where dynamic style meets innovative technology to create a driving experience that's as intuitive as it's fun. On the outside you'll find nothing but vibrancy across the choice of available colours; whilst such touches as the pronounced wheel arches, the wraparound rear headlights and the titanium trapezoid grill perfectly compliment the car's natural energies. Meanwhile, you might be surprised by the levels of sophistication found on the deceptively spacious interior. From the ambient lighting to the meticulously positioned controls, everything has been placed to ensure your comfort, convenience and pleasure.
Nationwide Vehicle Contracts have some fantastic leasing offers on the Ford Fiesta at competitive UK car lease prices.
Ford Fiesta Key Features
• Stylish and dynamic exterior, warm and sophisticated interior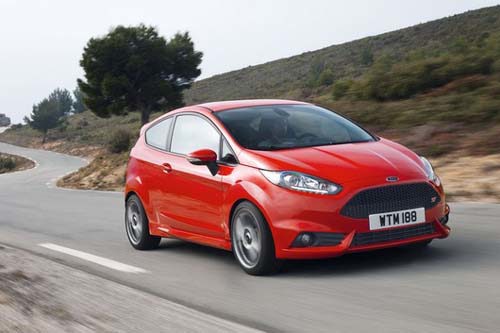 • 5 Star Euro NCAP rating
• Innovative technology throughout places emphasis on comfort and convenience
• Driver assistance systems including power-assisted steering and Rear View Camera
• Choice of advanced diesel and powerful, economical petrol engines


Power & Performance
Whether you prefer petrol or diesel, the Ford Fiesta will not disappoint. Available with a range of 16-valve petrol engines, the emphasis is upon combining reliable power with an impressive economy. Starting with the frugal 1.25-litre Duratec and ranging to the TiVCT 134PS, no matter what your priorities or driving style, the Ford Fiesta has a petrol engine to match.
The diesel range includes the 1.4 and 1.6-litre Duratorq engines; both of which have been completely reworked to improve their responsiveness, economy and cleanliness. Both are also fitted with Coated Diesel Particulate Filters. Removing up to 95% of the soot particles from the exhaust, they serve to make their already-impressive CO2 emissions even lower.
For those who really want to boost their green credentials, though, there's the ECOnetic Technology engine. It delivers the same torque as the 1.6-litre Duratorq diesel but achieves a stunning fuel economy at 85.6mpg; with fuel emissions as low as 87g/km.
Transmission is available in both manual or automatic depending on the engine.
Comfort and Convenience Through Technology
The technological innovation inherent every inch of the way through the Ford Fiesta will never fail to amaze you. You'll find that it gives you features you never even knew you needed. Once you've experienced them, though, you'll wonder how you ever went without.
For example, the Ford Fiesta can sense your keys in your bag or pocket before casually unlocking itself. Gone are the days of rummaging endlessly for your keys; even the engine's started with the simple touch of a button.
Voice control, too, has been integrated to an impressive degree. Such systems as climate, your phone, and even the song you want to play can all be controlled by the sound of your own voice.
Leasing vs Buying
When you lease a Ford Fiesta with Nationwide Vehicle Contracts, you get such unmissable benefits as fixed monthly payments, a lower initial deposit, flexible contract duration and mileage terms and inclusive road tax and breakdown recovery.
Video Reviews
Nationwide Vehicle Contracts Limited Ford Fiesta video review
Customer video review of the Ford Fiesta