Ford Focus Estate Car Leasing & Contract Hire

Your search queries return no results
Why Lease The Focus Estate?
The Ford Focus finds itself smack bang in the middle of a highly competitive market that includes the likes of the (brand leader) Volkswagen Golf and the Vauxhall Astra, and the five-door estate has recently undergone a facelift to make it even more competitive against its own rivals (that includes Skoda Octavia estate, SEAT Leon ST, Kia Cee'd SW and Peugeot 308 SW).
And competitive it is with a good engine range of both petrol and diesel variety, a large boot, and excellent specification that (model dependant) can include alloy wheels, a Quickclear fast-demisting windscreen, heated door mirrors, front foglights, DAB digital radio, SYNC Bluetooth and voice-control system and colour display screen.
A choice of both TDCi diesel and EcoBoost petrol engines in the Ford Focus estate means that the car is well capable of some excellent fuel economy whatever trim level and whatever engine size you select for under your car's bonnet; and whatever your personal needs - from practicality to short or long journeys.
Ford Focus Estate Key Features
• Great specification whatever the trim level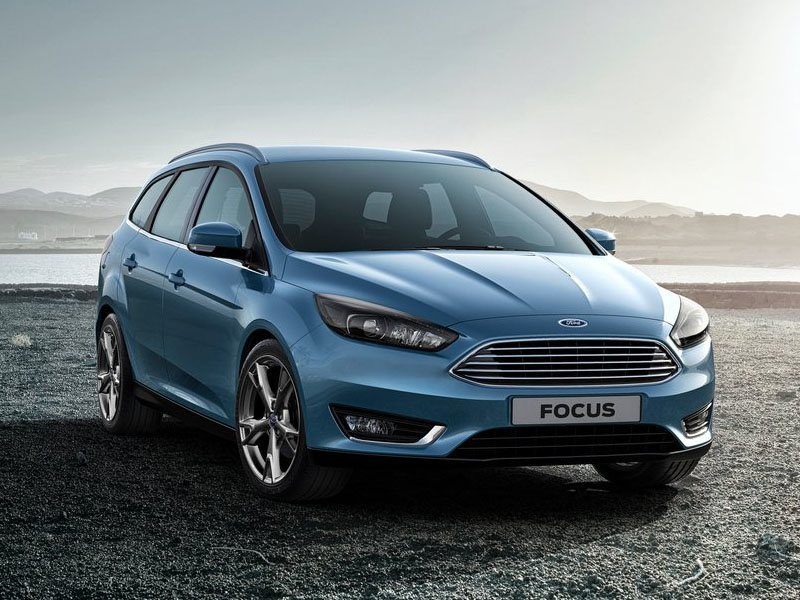 • A great range of petrol and diesel engines
• Fuel economy of up to 74.3mpg
• It's a Ford Focus after all!
• A great drive for an Estate car
Power & Performance
The very latest 1.5-litre TDCi diesel engine in a Ford Focus Estate can give you fuel economy of up to 74.3mpg, whether you choose the 94bhp or the higher-powered 118bhp form, with sub-100g/km CO2 emission levels, but there are also other diesel versions available in the shape of the 1.6-litre TDCi,and a fast 2.0-litre TDCi. all of which have excellent fuel economy - as you would expect with diesel engines.
Ford EcoBoost turbocharging technology is the main effect behind the Focus Estate petrol engine MPG figures with the 1.0-litre EcoBoost engine returning 58.9mpg and the more powerful 1.5-litre version 50.5mpg - while the 1.6-litre petrol engine can only return 47.1mpg.
Overall, you can expect responsive engines, good steering and quality suspension from a Ford Focus estate driving experience on whatever road you choose to drive on.
Leasing vs Buying
Here at Nationwide, we believe that leasing a new car is a great alternative to buying one; which is why we offer low initial payments, fixed monthly instalments and flexible contract terms, along with inclusive road tax and breakdown recovery on a huge range of vehicles at competitive lease rates.