Infiniti QX70 Car Leasing & Contract Hire

Why Lease The QX70 ?
Formerly the FX, the Infiniti QX70 is a powerful 4x4 crossover that brings excitement and adventure to the luxury car segment. With a bold and commanding design and unbelievably slick performance for a car of this size, the practical and premium Infiniti QX70 is simply full of surprises.
Infiniti QX70 Key Features
• 4x4 practicality with a sports car soul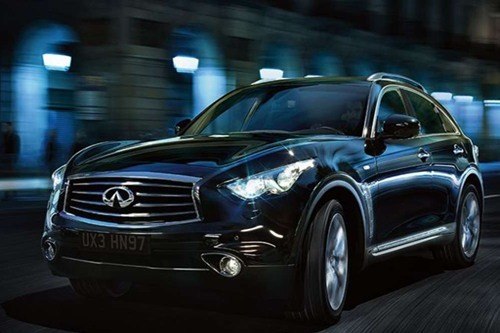 • Groundbreaking around-view monitor for safe and precise parking
• High-quality features and equipment at entry level
• Intelligent all-wheel drive as standard
• Choice of three superior engines
Power & Performance
Despite its large size and two-tonne weight, the Infiniti QX70 offers a thrillingly brisk ride, hinting that underneath its 4x4 body beats the heart of a sports car. There's a choice of three colossal engines, with intelligent all-wheel drive and responsive seven-speed automatic transmission fitted as standard on all models.
The diesel engine is a 3.0 litre 238PS V6, which gives you swift and smooth acceleration combined with the best economy figures of the range. In the middle of the range is a 3.7 litre 320PS V6 petrol, but for the most thrilling experience, go for the 5.0 litre 390PS V8. This monster of an engine almost immediately generates 369lb-ft of torque, making it capable of achieving 0-62mph in less than six seconds.
To enhance your control and stability, Vehicle Dynamic Control automatically adjusts power levels and applies appropriate brake pressure to individual wheels. Finally, Continuous Damping Control strives to give you the perfect ride at all times through constantly monitoring each individual shock absorber to find the ideal balance of smoothness and responsiveness.
Comfort & Refinement
The attention to detail in the interior of the Infiniti QX70 will astonish you. No expense has been spared in ensuring that every journey is as luxurious and comfortable as possible. For example, the seat belt is one of the only car surfaces felt throughout the entire journey, yet few car manufacturers seem interested in making it any more comfortable. Infiniti, though, have made theirs using a variable herringbone weave that's 20% softer than standard fabrics.
The standard equipment found in the Infiniti QX70 is usually thought of as a top-of-the-range optional extra on other cars. At entry-level there's 20" alloys, electric leather seats that can keep you warm in the winter and cool in the summer, privacy glass, an electric sunroof and self-repairing paint. The premium trims add adaptive damping, 21" alloys, intelligent cruise control and an upgraded multimedia system, the Infiniti Controller.
The Infiniti Controller places almost complete control of all of the car's infotainment features right at your fingertips. Designed to be intuitive without being distracting, at the touch of a button you can effortlessly flit from taking a phonecall to monitoring your route. Meanwhile, your in-car music will sound amazing thanks to the 11 speaker Bose Premium Audio System.
Leasing vs Buying
When you lease an Infiniti QX70 from Nationwide Vehicle Contracts, benefits include fixed monthly payments, inclusive road tax and breakdown recovery, lower initial deposits and flexible contracts and mileage terms.
Nationwide Vehicle Contracts has some excellent leasing offers on the Infiniti QX70. If you're looking to lease practical yet comfortable 4x4, we also have some outstanding leasing offers on the BMW X3 and the Land Rover Discovery.